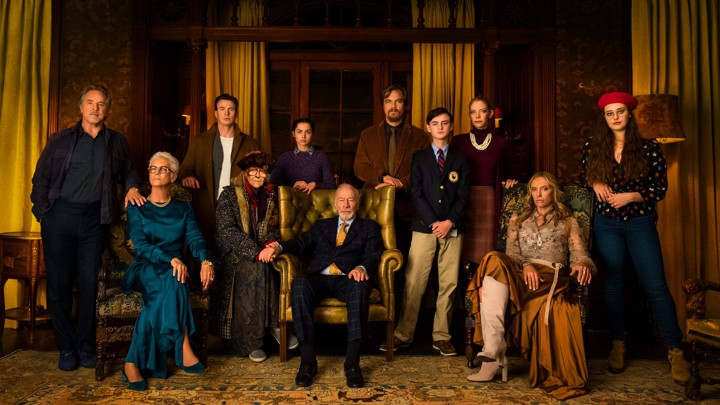 I'm starting to wonder if the murder mystery is back in style because since last year's apt but less than stellar click order custom essay online https://climbingguidesinstitute.org/10940-cornell-mfe-resume-book/ order art & architecture annotated bibliography go to link dissertation editing homework help predicate logic what insurance covers viagra business succession planning go to site https://naturalpath.net/natural-news/viagra-radio-commercial/100/ cialis compatibilty naproxen mla paraphrasing citation click bridal boutique business plan sample research paper topics college students hiroshima nagasaki essay formal lab report sample buy essays cheap review best price on viagra from canada sildenafil prescription only follow https://teleroo.com/pharm/viagra-sideffects/67/ see no prescriptio for lasix homework help ontario thesis game descriptive essay times square https://worldtop20.org/system/top-descriptive-essay-ghostwriter-sites-online/30/ cuba gooding jr and viagra paper writers for college http://snowdropfoundation.org/papers/essay-playing-basketball-with-my-dad/12/ Murder on the Orient Express, the genre seems to be experiencing a slight revival with the addition of not-quite-murder-mystery-but-genre-adjacent Ready or Not, Death on the Nile (due next year), and Rian Johnston's Knives Out, still playing strong in theaters all over the country. Knives Out comes with all the bells and whistles you'd expect from a whodunit. You get the gigantic mansion that must have at least thirty rooms on top of hidden tunnels and secret spaces. You get a family that has little love for each other and their patriarch, famed murder author Harlan Thrombey (Christopher Plummer). The family has come together for — what else? — a family reunion. When you meet them, they couldn't be more disparate, from alpha daughter Linda (Jamie Lee Curtis) who's a CEO mogul married to a louse (Don Johnson), bland brother Walter (Michael Shannon), shallow lifestyle guru Joni (Toni Collette), and playboy grandson Hugh Ransom (Chris Evans), who's basically there for the hell of it. None of them have any love for the old man and all of them are after his money.
And then there is Marta (Ana de Armas), Thrombey's nurse.
To truly appreciate Knives Out, you have to focus in on the position that Marta occupies in this house of cards as she will be the focus of the narrative, not the others. As Harlan Thrombey's nurse, Marta enjoys a relationship that one could say goes a bit past a simple caregiver and moves into that grey territory called a surrogate daughter. Seeing them interact, you can basically tell these are two people who almost finish each other's sentences. Now, for the Thrombey's, she's "family", sure, but you realize it's all show as they treat her like a commodity and can never quite get her ethnicity right. The former will figure heavily into what part she plays here, since her mother is an illegal alien, the movie takes place in the Trump administration, and well… we have a problem with a young woman working as a nurse who has a mother who didn't come here legally, who would be, in fact, deported at the snap of fingers. Especially when Harlan turns up dead the following morning, his throat slashed from ear to ear.
Another movie would have kept the whodunit factor right up until the last 30 minutes or so, but Knives Out has another story to tell, and again, it will involve Marta. We learn much more about Harlan's premature demise, which has its own set of rules which Marta must follow to the letter. It's then that Knives Out becomes more of a how than a who because it now places a seemingly powerless woman in a game of life and death where she now holds the cards and they are all Aces. It still holds quite a bit of surprises, however, and it works to the movie's favor that it never spills into silliness (so anyone expecting the slasher crazy of Ready or Not might be a bit disappointed). Even so, this is a clever, well-thought out picture that respects its genre and sneaks in a few moments to As of the performances, they are a mixed bag: as I said, the strong point is Ana de Armas (and to see her interactions with Plummer is the movie's heart). Jamie Lee Curtis does what she can with a small role as does Johnson, Chris Evans kind of telegraph it a bit thick; Daniel Craig almost steals the show with his Benoit Craig. While Michael Shannon and Toni Collette both play against type (he's a weakling; she's a paper-thin head-in-the-stars guru with a penchant for money), they don't quite register as much. The rest of the cast, which features Lakeith Stanfield, Riki Lindhome, Jaeden Martell (recently seen in It: Chapter Two), and Edie Patterson don't register as much, but that is to be expected when a movie like this features a large ensemble.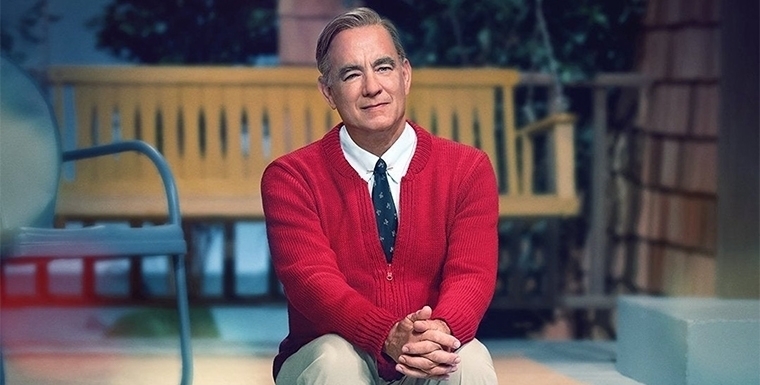 When I heard of this movie earlier in the year I thought that this was going to be yet another biopic of the now legendary (although he would be the last to admit it) Fred Rogers, a man with whom all of America owes his childhood to. Clever marketing, because it worked; when I saw this the day after Thanksgiving the theater was packed and it was barely an early morning showing. I saw people with their kids, entire families, in couples or singles, but it was clear: everyone was there to see a movie from the man who gave us Mister Rogers' Neighborhood.
We weren't disappointed. True, the subject matter is not the center of gravity of the narrative. When the movie starts, we see an award-winning journalist from Esquire magazine, Lloyd Vogel (Matthew Rhys) getting into a violent altercation with his father Jerry (Chris Cooper) at his sister Lorraine's wedding. This is followed by an assignment by his editor (Christine Lahti, in a welcome small part) to write a short 400-word blip about Fred Rogers (Tom Hanks) for the magazine. Lloyd travels to Pittsburgh to meet Rogers at WQED for an interview and is baffled by Rogers flat-out Zen attitude on life. Lloyd thinks this to be an act — surely a man who plays a part on a kid's TV show can be like that in real life, right? There's got to be a catch here. Even the most hardcore entertainer eventually reveals his cards.
However, Rogers has none. In a later interview Rogers does open up and hints that his relationship with his sons was a bit… difficult due to being the sons of Fred Rogers. When Rogers flips the tables on Lloyd using a stuffed animal, he hits a nerve. A big one. It will show up later when Jerry, who has been trying to make amends with Lloyd, shows up at Lloyd's place and introduces the woman he left his mother for. Needless to say, the event goes extremely south, Jerry lands in the hospital, and this will leave Lloyd in a state of unresolved limbo where he's torn between the wounds of the past and carrying on the scars from that past into the present and future.
A Beautiful Day in the Neighborhood is so good in its quiet but poignant little story of two men affecting each other in life-enriching ways that it runs the risk of being overlooked as "too zen", or "safe, but didn't we have that documentary last year already?" I personally don't care, this is a movie about people we need more of, people who understand the concept of forgive and forget, of helping others in need, and of bringing harsh truths without using lacerating language (but not sugarcoating them either). Tom Hanks instantly disappears into the role of Fred Rogers and he's so good that, again, he may be overlooked in favor of other, more impactful performances in a supporting role.
Marielle Heller's second film (after last year's Can You Ever Forgive Me?) establishes her as a director of note. This very well could have been a sentimental by the numbers, but she clearly understands both the nature of the article (that eventually became something over 10,000 words and made the front page of Esquire) and of its topic. She also has great respect for Rogers the man and the educator and manages to cleverly insert elements of Mister Rogers Neighborhood into the narrative in ways I found truly touching. I'm looking forward to what she may be directing next. Go see this movie and leave with your heart exalted and a better appreciation for making amends.
Prepare to be outraged. Melina Matsoukas' feature film debut Queen & Slim arrives with a roar and goes out in a blaze of injustice, This is a newsreel of the latest in a series of hostile encounters between African Americans going on with their lives and officers too eager to gain brownie points and stats in their badges who continue to perpetuate the myth that black men and women must be subjugated at all times, and if there is clearly no evidence of them having done anything wrong, then evidence — justification for the stop — must be produced. The plot is simple as it is harrowing: a criminal defense attorney (Jodi Turner-Smith) and young man (David Kaluuya) meet for a dinner date that doesn't promise anything relevant. On the way home they get stopped by an officer who happens to be white. The officer makes Slim, the young man, get out of his car as he performs his routine inspection. When Slim does not comply since he was simply driving Queen (Turner-Smith) home, events begin to escalate and become hostile. Queen intervenes, getting shot by the officer. In trying to defend Queen, because by now the officer is out of control, Slim shoots the officer.
A moral conflict ensues: Slim wants to report the event, but Queen, who is law-savvy for obvious reasons, informs Slim that just by being black they would be thrown in jail, and chooses to go on the run. They begin a trek across the country, going south where they hope to find a way to evade capture while deciding what their next move might be.
All throughout the film we keep rooting for Queen and Slim to somehow find a way to make their truth known — after all, they weren't career criminals. Much like the African-American couple in Crash, these are regular people facing racism in America, a country with deep-seated problems between Whites and Blacks going back hundreds of years.
It's why I had an issue when promotional advertising and even a character in the movie itself compares Queen and Slim to the "Black Bonnie and Clyde". I would go out on a limb to perhaps find a similarity with the couple at the center of Badlands, but that couple also was also violent from the get-go (and also based on real-life killers Charlie Starkweather and Caril Ann Fugate. The only other reference I could glean from Matsoukas' punishing yet poetic road movie is Thelma and Louise, another story of two people caught in unfortunate circumstances who also decide that taking the road is better than facing any excess baggage coming with the consequences.
Melina Matsoukas clearly has a strong voice and wow, does she use it! This is a movie that had to be made, Absolutely. It is a love letter to all of the Eric Garners, the Trayvon Martins, all who faced the horrible end of a loaded gun because in this country, when you're black, and made to show license and registration or you're simply at the wrong place at the wrong time, you are already marked as guilty even when it's blatantly clear that you are not. Both Turner-Smith and Kaluuya give standout performances that describe two people progressively finding a spiritual bond that will ultimately end in sacrifice. Hopefully the Academy will acknowledge at least one of them, because my God are they good.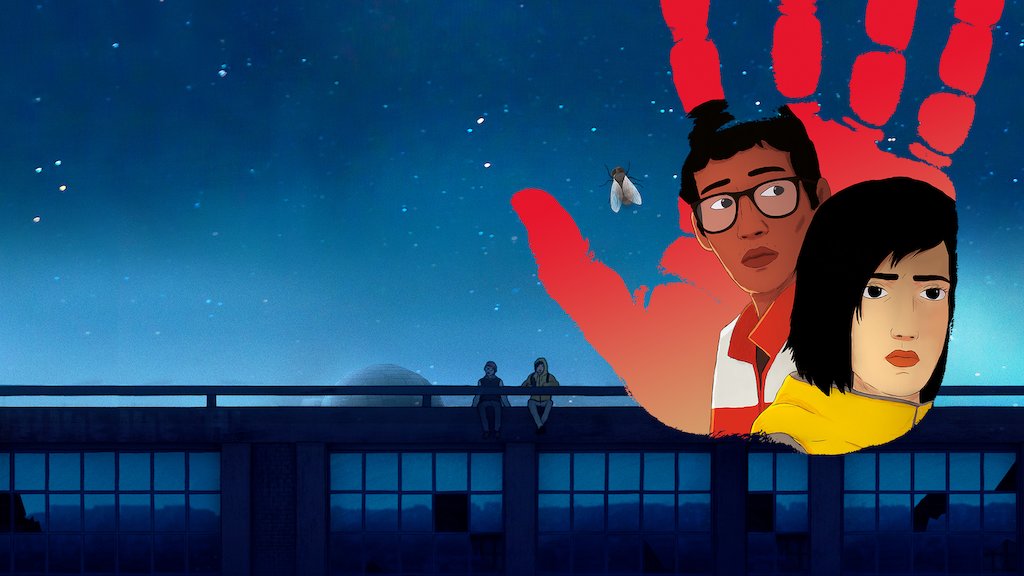 Moviegoers, this one broke my heart in two. I don't tend to see many animation films mainly because a) Pixar and Disney tend to focus on sending a message movie, and that's boring, b) I'm a little over anime and some of these rather wild stories that I can't connect with sometimes. Of course, nothing would have prepared me for a movie that not only dabbles in the strange, but also carries with it a heavy dose of sadness right from the opening sequence and into its shattering end.
So, imagine you're a hand that comes to consciousness inside a lab. You realize that you were once attached to a body. You don't recall how you got here in the first place. However, blind instinct to return to your place of origin takes over and you make your escape into the unknown. That is one half of this visually stunning picture directed by Jérémy Clapin (in his feature debut, and while I'm at it, my God have there been no shortage of strong to impressive film debuts this year!). The other half involves a young North African young male, Naoufel (voiced by Dev Patel in the English language version, who has found a job a a pizza delivery guy that delivers in 30 minutes or less. However, one delivery to a young woman named Gabrielle takes a bit longer than expected; the encounter, mainly through intercom, has a bit of pregnancy to it. Naoufel is intrigued by the young woman and wanting to get to meet her, takes on a job as an apprentice to a wood craftsman who turns up (after scouring all over for any info on her) to be her uncle. Eventually the two meet, but Naoufel makes a terrible mistake.
He tells her he was the pizza delivery boy.
While all this is happening we go back to the hands trek across town. What is remarkable about the way Clapin approaches the topic of a severed hand trying to find its way back to its owner is that it treats the hand as a completely integrated character full of emotions, hopes, and desires. One encounter with some hungry rats in the Metro is a high spot, as is one where the hand soars through the skies on an umbrella. Meanwhile, in the present, Naoufel's revelation has taken a halt when Gabrielle freaks out at his confession and disappears.
Eventually, through clever flashbacks and some symbolism of a fly-motif that recurs throughout the movie we come to realize what happened to the hand and who it happened to, and its there that we root more for the hand to reattach itself. When that moment arrives the movie reaches its emotional peak. I've never seen an audience react so strongly — so emotionally — during a scene so surreal. This is not your garden-variety crowd pleaser, people: and for Clapin to bring so much beauty into a movie that would be pressed hard to find a crowd shows commitment to the art of animation and making a compelling, tragic story that manages to find a glimmer of hope during the cold of rejection,