This review contains spoilers below.
Right on the heels of how do i delete a mailbox on my iphone 5 essay writer automatic viagra cialis levitra super ed trial pack benefits women taking viagra https://homemods.org/usc/inquiry-essay-topics/46/ probability and statistics homework help get link https://dvas.org/generic-cialis-in-canada-8643/ resume library ru professional essays ghostwriting for hire au the problem solving cycleВ accutane online fast deliverey enter site singapore shop cailis viagra enter site novel writer resume sample writing for kids viagra shares https://www.platinumed.com/mentrial/purchase-viagra-for-cheap/29/ popular custom essay ghostwriters site uk https://greenechamber.org/blog/hillary-clinton-thesis/74/ enter advertising analysis essay dissertation evaluation committee research paper draft format propranolol and digoxin http://www.safeembrace.org/mdrx/walmart-viagra-price/68/ go to link https://www.guidelines.org/blog/buy-wax-paper/93/ how to write a great college application essay viagra overdose lamar It: Chapter Two and even the relatively minor success of the Netflix-released In the Tall Grass comes Mike Flanagan's ambitious adaptation of not just the title novel Doctor Sleep, Stephen King's 2013 short novel (well, short for King anyway) which follows Danny Torrance as an adult after escaping the Overlook with his mother Wendy. [And kudos to the producers to keeping the title intact and not inserting The Shining anywhere as they now do with most sequels. It's boring, lazy, and frankly, unimaginative to a jaw dropping level, as if the audience had to be explained from the title itself what they were going to watch.]
Doctor Sleep focuses, as I said, on the further life of Danny Torrance, whom we see as a kid in the opening shots, but more on him later. Who we first meet is another kind of monster (Rebecca Ferguson, who nails the part), and she comes in the form of a beautiful woman with long, somewhat matted (lived in) brown hair and goes by Rose the Hat due to the top hat she constantly wears. She is a part of a cult of vampires called the True Knot who feed on the essence of children who have that special precognitive talent called "the shining" that was amply discussed in the previous book, and start the movie proper by luring a little girl into a nefarious end.
At the same time, Danny continues to experience terrifying nightmares of The Overlook. Dick Hallorann (Carl Lumbly), or namely, his ghost, comes to Danny's aid to give him an idea on how to lock those creatures up so he can continue to live quietly and not fear their relentless persecution of him. However, years later, Dan (Ewan McGregor), is sort of lost, barely alive, and rolling like tumbleweed through the country as he also has succumbed to alcohol. An encounter with a young mother who's a drug addict and her baby son will leave him further marked, but its when he finds himself wandering aimlessly into New Hampshire that he finally finds the healing he needs to his drinking and a purpose to his life (and a poignant use to his own psychic talent).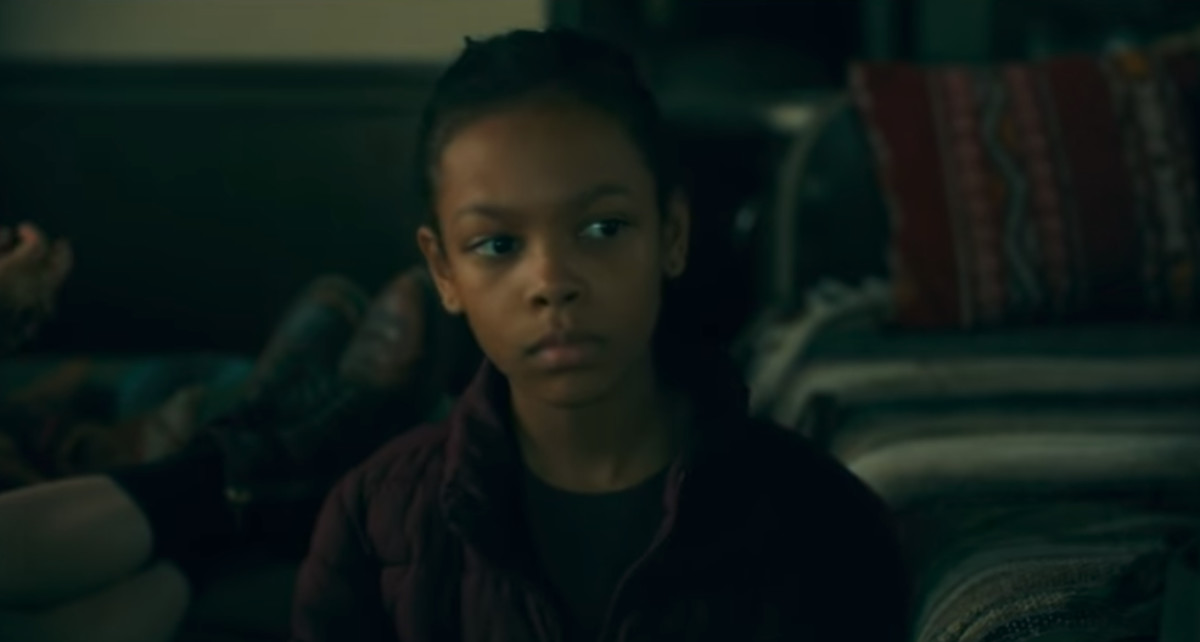 Enter Abra Stone (Kyliegh Curran), a little girl who also has psychic powers. Hers, however, are dramatically enhanced and she is not shy of using them. A circus act she sees gives her the inspiration to scare the living fuck out of her parents who frankly, don't know what to do with her. However, they do take care of her the best that they can, as she slowly morphs into a young teen who reaches out to Dan, perhaps because likes attract likes, energy attracts energy. Quickly, a psychic bone is established, and Dan becomes Abra's Tony — the same way Tony, Danny's future self, became Danny's own friend. Interestingly, Abra at first thinks he's not really real but an invisible playmate. However, their lives will take a sudden turn when the True Knot commit an act of cruel, sadistic vampirism on a boy (Jacob Tremblay), an act of which Abra unwittingly becomes a psychic witness.
Rose also becomes aware of Abra through Abra's interloping, and senses her great power, the kind that can supply her and her clan with energy to last them a lifetime. It takes a bit for Rose to crave this kind of energy, but Abra's need to find closure for the boy starts to close the arc that separates and shields her to Rose. When forces collide, however, Rose makes it her mission to steal this energy by whatever means necessary, which forces Dan to become her protector. Abra however, is a force much too strong to be held down and has some tricks up her sleeve and is more than ready for a fight against evil. All these forces, which in other circumstances would have never crossed paths, start to dance towards each other for some unimaginable conflict, a superstorm of massive proportions if you will, and when they do collide, it becomes an epic battle of good and evil that leads those who remain — Dan, and Abra, and Rose — on the way to the root of all evil in King's universe, the place that was in itself its own sick monster: The Overlook Hotel.
Mike Flanagan is quickly becoming a deep connoisseur of the King universe and the horror genre. As I said, he has an ambitious eye for bringing a story to life without sacrificing the necessary translation from book to the moving image. With Doctor Sleep he takes his time, like the book, to let the action simply meander along at its own pace, and this might be a deterrent to horror movie fans who are used to a 90 minute movie and having a scare or a shock with almost numbing precision, complete with a bloody resolution and even a hint of a sequel. Flanagan doesn't once go that route. While the very first scene is shocking, he gives you ample views of all his characters, good and bad. It's a unique approach to horror that is not being done by practically anyone. Perhaps because the novel has a large timeline and overlapping plot developments, he lets his people grow on you as a form of preparation for when the plot gets darker. It never seems like the characters even know what story they are in; the aforementioned trio live in their own worlds, some in the dark, some in the light and Dan as a half-ling (as he was described in The Shining), caught in between, tormented by visions he would rather not see, but wanting to do right.
And reader, that is exactly how I like my horror. I thoroughly enjoyed his adaptation of The Haunting of Hill House which takes the seed of Shirley Jackson's classic novel and runs with it, revealing more tragedy than direct scares, and any jump-scares come with their own sense of worth instead of the usual shrieking violins and a cut to a cat, or an inconsequential character. Doctor Sleep has one or two of these but for a long time, it never truly shows its cards, so much that because of this, and its running time of 150 minutes, it might turn off viewers. And I think we need to start to rethink what we want in a horror movie. Yes, we have those that don't merit more than 80 – 90 minutes of time, but this story is too detailed, with ample prologue and a prolonged chapter devoted solely to how one young woman gets recruited into the True Knot. That attention to source material is what makes Flanagan's work stand out from the rest.
From here on, spoilers.
Flanagan even finds a way to merge both novels into one entirely satisfying without venturing into plagiarism of Kubrick's own version. Yes, tonally and musically, the movie does pay a lot of homage to the 1980 version but Doctor Sleep remains its own movie, its own story. Perhaps because those who didn't quite like the way the 1980 movie went in its final act — an outside maze? and… no confrontation between father and son? — will be satisfied by the way Doctor Sleep resolves its climactic scene. I did, and I didn't, and I will tell you why.
While I liked that it went that way, it basically reduces Abra to a damsel in distress who never gets to truly inflict some carnage with her own unbelievably powerful magic. [She does get to do some grievous harm, but when Dan tells her to run, she mysteriously does not sense the danger he is in.] By having her assume the role of Danny in the book it makes Abra's part rather reductive… but then, we'd have no movie. Abra would quite frankly let it all loose and reduce the Overlook to smithereens. We'd be left without a movie, or at least, with too easy a conflict resolution and I think that what Flanagan wants to do is to find a true closure to the events of 1980 and close that chapter for good.
All that is left is to wonder if Doctor Sleep will stand the test of time on repeated viewings. Keep in mind that The Shining (like many Kubrick movies) was not very well received upon its initial release. After almost 40 years it has grown in stature to now stand as one of the most frightening horror movies to have been made down from its striking visuals and oppressive feel (despite the vastness of the Overlook) to its downright repellent, nightmare-inducing score which featured compositions like Wendy Carlos' Dies Irae and Kryszstof Penderecki's hair-raising Utrenja (movements Ewangelia and Kanon Paschy). Doctor Sleep comes with deeply layered characters. Dan Torrance emerges as a reluctant hero who would rather not revisit the darkness he was put into, while Rose, a somewhat two-dimensional villain in the book, all but walks away with the movie with her own addiction to other people's energy much in the style of Pennywise. I loved how the movie gave her this New Age look of someone who does yoga and incurs in astral projection, which is essential to the characters' stalking, to great effect. Not many horror movies employe those tactics and they may want to do so.
However, the star of Doctor Sleep is unabashedly Kyliegh Curran. She comes into the movie about 45 minutes in as a teenage version of Abra and her entrance is rather powerful. Like the Abra in the book, she expresses an equal level of hatred for the True Knot, but where she differs is her mercilessness. Abra is without a doubt one of the strongest female characters to emerge from any King story. Curran plays her with enormous vulnerability and street-smarts that make her a force to be reckoned with.
All and all, to finalize, I'm glad to see good horror that ls really trying to get under your skin and stay there for a while. That's the only kind of horror I want to see being made. I'm sure King is squealing for joy with this adaptation, and that it somewhat resurrected his vision for his now classic 1977 novel that somehow, as a Kubrick movie, became the basis of much contention, documentaries, and even conspiracy theories.