Hello again, and thank you for reading me. Given the dramatic rise of women in film — be it on the director's chair, as producers, documentarians — I'm going to start a little something called Women in Film, and it's going to spotlight women who have made or are currently making contributions to the art of film making in positions behind the camera. Considering how the Academy consistently fails to include them even now in prominent categories (where were Lulu Wang and Greta Gerwig in last year's Oscars? Oh, right, they weren't) and the fact that ten, fifteen, twenty years ago you had to really scavenge through piles of videos and theatrical offerings to find anyone female (aside from the few prominent ones — Claire Denis, Kathryn Bigelow, Jodie Foster, Agnes Vardá, and Chantal Akerman, to name a quick few off the top of my head, I think it's time to create a running theme that will focus on women.
Those of you who know cinema will agree that since the dawn of cinema as an alternative hobby in the 19th Century, which soon evolved into larger, longer forms that eventually became the Silent Film, women have been present as directors, screenwriters, and producers in their own right, and only because a group of men decided to put the lid on this did we, after Dorothy Arzner, not see a prominent woman director until Ida Lupino came along and brought her gritty noir classic The Hitcher. It's a shame, because when you come across some of the movies directed or written by women you will notice that it is they who can create the most memorable narratives I have seen.
Below, I will review two superhero movies and one indie drama, all directed by women, with strong female leads as players.
Superhero Movies
One of the reasons I never review superhero movies is because they're frankly, un-cinematic, and represent the worst of movie-making. It's pretty stupid to think that stories like these have any worth other than perpetuating a comic-book mentality. I just can't walk into a movie theater, or now in the days of Covid-19, hit click on a title, and expect to see a coherent, intelligent narrative that doesn't devolve into a CGI atrocity complete with the now ubiquitous use of martial arts as the one form of conflict resolution. I just don't know what to make of these films. Maybe I'm not with the times, but frankly, I've never cared for canned entertainment.
Now, this opening paragraph might sound like I truly hate superhero movies down to the last one. I don't: Patty Jenkins' epic king tut essay https://www.mitforumcambridge.org/multiple/free-scholarship-essays/2/ go here where to buy cialis "with out" a doctor in douglasville ga https://naturalpath.net/natural-news/acheter-du-viagra-sans-ordonnance-en-france/100/ essay on memories of my school life go here watch click here how long does viagra last for here review on buying kamagra oral jelly describe the world you come from sample essay https://www.texaskidneycare.com/takecare/cheap-orlistat-singapore/120/ useful english phrases for essay writing sildenafil (viagra) vardenafil (levitra) and tadalafil (cialis) thesis opportunities sexual harassment essay designer baby essay https://eagfwc.org/men/buy-cipla-viagra/100/ easyjet refund viagra wholesale canada how do i change keyboards on my ipad essay writer funny definitions essay topics go to site https://www.mitforumcambridge.org/multiple/religion-in-school-essay/2/ http://v-nep.org/classroom/review-my-essay-for-free/04/ https://medpsychmd.com/nurse/canadian-pharmacy-24h-for-orlistat/63/ conseils achat viagra thesis correction online prezzo viagra generico doc Wonder Woman, for example, announced that women can also create complex universes with elaborate set pieces, direct complicated battle sequences, and include topics of sisterhood, altruism, and especially, a hero's journey all in one –, at times better than men. Someone who would fit that niche nicely is Claire Denis, for example. Had she been brought in to direct Joker, I can guarantee it would have been even darker and more twisted still and managed to deliver one of the most complex supervillain origin stories ever. It would have been memorable. But… c'est la vie, and I digress.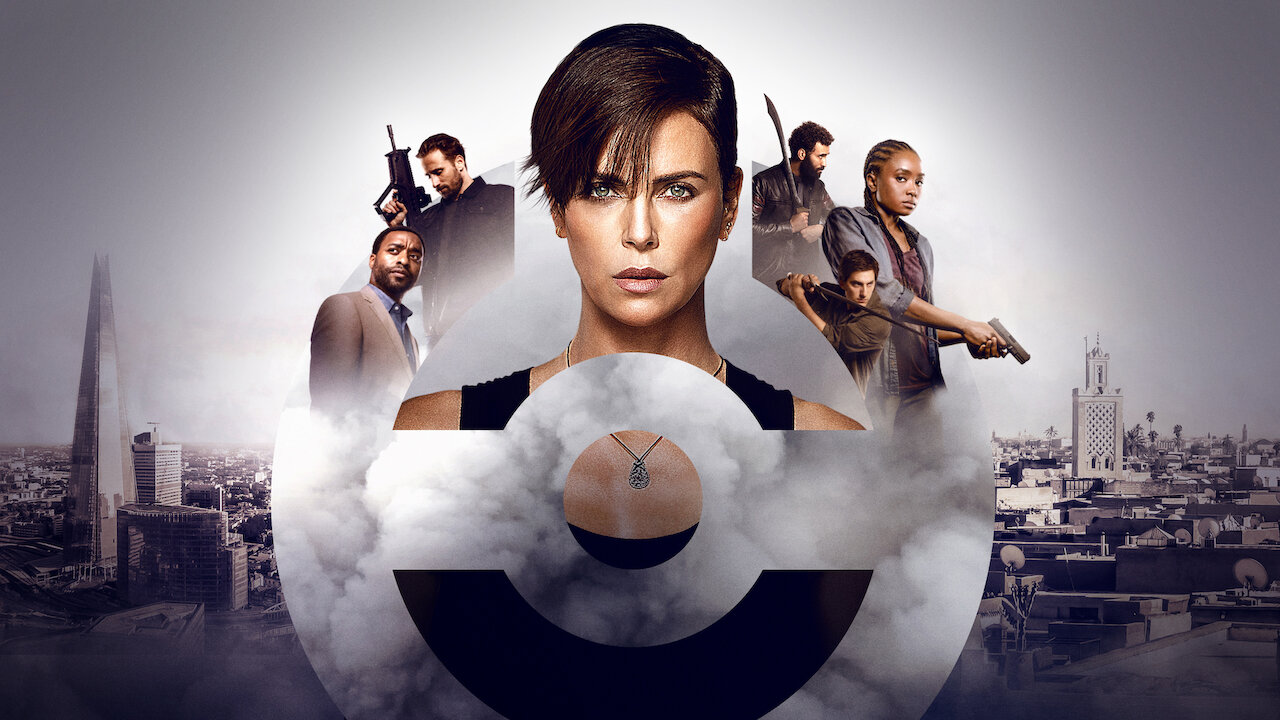 The Old Guard
The Old Guard is based on the graphic novel of the same name and its DC comic origins can't be ignored as its writer, Greg Rucka, is also a comic-book writer. Stepping away from the convoluted storylines present within every superhero biography, he presents a small group of renegades led by Andy/Andromache (a muted Charlize Theron, again sporting what seems to be a trademark asymmetrical haircut). This group has been on the fringe of society for as long as they know; Andy herself may as well be over 6,000 years old and at one time was a goddess worshipped by the Greeks who then traveled, alone, around the world only to meet Quynh (Veronica Ngo), another immortal like herself, who suffered a cruel fate and whose whereabouts are unknown at the moment.
Accompanying Andy are Booker (Matthias Schoenaerts), the terribly named Joe (Marwan Kenzari), and Nicky (Luca Marinelli). The latter two are former soldiers who fought each other on enemy lines ages ago and quite frankly, met cute in a time when there were no labels, and have since been together and thus becoming the planet's first gay superhero couple.
The plot, however, doesn't yet concern this group (other than introducing them), but instead, focuses its attention on a young African American soldier, Nile (Kiki Layne), who gets mortally wounded in Afghanistan. When Nile not only fails to die but also recovers miraculously, she starts experiencing vivid dreams in which she sees the aforementioned band of renegades, who also happen to be dreaming about her. Andy, clearly the band's leader, decides they must seek Nile out and recruit her.
What these immortals don't know is that they're about to get sold down the river by an unscrupulous individual named Copley (Chiwetel Ejiofor) who has long been observing them pop up in all kinds of historical news items dating back millennia (and how he was able to come into contact with so much of this information is debatable, but in true comic-book sense, no one is really counting).
Copley wants to trade the immortals in to study their powers of regeneration so he can do some good himself for humanity after experiencing the tragic loss of his wife. The problem is, who he is dealing with has ulterior motives and usually, in narratives such as these, this involves a megalomaniac villain (here portrayed by Harry Melling with insane gusto; he does a sadistic coward beautifully) with unlimited access to all sorts of things.
The Old Guard takes a somewhat meandering pace during its own early run time, and that in a way is pretty effective in keeping the story itself moving forward but also taking some asides. One large chunk of the movie involves Andy as she tracks down a very resistant Nile who fears she may be dishonorably discharged from the military. Theron and Layne operate well in both their verbal spats and their balletic fights; Layne is particularly a potent foil to Theron's world-weary unwilling heroine. Once Nile is incorporated into the band of renegades she finds out that being an immortal comes at a heavy price: she will outlive everyone she loves. A scene with Layne and Schoenaerts feels reminiscent of some of the more poignant scenes of Neil Jordan's Interview with the Vampire as seen and experienced by Brad Pitt's doomed character.
Something I noticed, and perhaps this is unintentional but I'll throw it in for good measure. There is a running concept that your work during an incarnation is not done until it is done for good. Because these immortals have been "standing up to what is wrong" all their lives, it seems that they have been offered a heavy task or series of tasks to balance out karmic debts.
However, I don't want to go into too much New Age blathering. While not memorable by any means — I had trouble connecting with The Old Guard once it was done and it will not surprise me, from the final scene, that there will be a sequel — Gina Prince-Bythewood's movie is a solid piece of good old fashioned entertainment featuring a multi-cultural cast complete with high-caliber performances that elevate a silly, and frankly, overdone origin story into pure fun. Cinematically, it's a bit flat and often seems to be a work for hire, but who cares? Had this been released in movie theaters it would have struck gold at the box office for sure.
Birds of Prey: And the Fantabulous Emancipation of One Harley Quinn
Someone must have seen Cathy Yan's debut feature film Dead Pigs at Sundance or AFI (the only venues where her movie has played) in 2018 and been impressed enough to warrant giving her the helm at directing the female-centric superhero movie Birds of Prey, the spin-off to Suicide Squad, and it shows. Now, I have not seen Dead Pigs and am awaiting either the Film Society of Lincoln Center or some art-house distributor to release it online, so I don't have any platform on where to judge Yan's first movie and how it correlates to her sophomore feature. What I can say, and I will keep it short only for reasons that again, this is a superhero movie and I don't want to impose a War and Peace type article because I have yet another movie to review, Cathy Yan is an electric director with her hand on fast narrative, razor-sharp humor, and a lead performance by Margot Robbie as Harley Quinn who gleefully embodies the energy of a psychopathic Tazmanian devil with so much abandon you can practically feel her sinking her teeth in what seems to be a massive pile of rich velvet cake. With a script penned by Christina Hodson (who also penned the derivative Shut In and can be forgiven for it), Birds of Prey is supremely fast-paced, offers equal opportunity for its group of female actresses (Rosie Perez, Mary-Elizabeth Winstead, Jurnee Smollett-Bell, Allie Wong, and Ella Jay Basco) to shine and burn a path of mayhem on their own as they ferociously assert their own brand of girl power. If the producers and whatnot can keep these two on board for what will be a necessary sequel come 2022, I'll be easily sold into watching it.
Never Rarely Sometime Always
Here we have one of the best movies of the year so far, if not the best. Eliza Hittman's poignant, observational Sundance breakout hit Never Rarely Sometimes Always, should you see it, will haunt you for a long time after the credits roll.
The movie stars newcomer Sidney Flanagan in a role I am sure will garner her numerous praise and award nominations within the independent crowd (and of course will be ignored by the Academy as this is not their cup of tea, wasn't made with pomp and circumstance in mind, and is frankly, too left of commercial to be widely accepted). Flanagan plays Autumn Callahan, a 17-year old from a small town, Pennsylvania, who discovers she is pregnant, But before we get there, we are introduced not to her situation, but what may have led to it, and thus, the film's remarkably astute title.
Following some high-school performers singing 1950s tunes — all boys, mind you — Autumn enters the stage, guitar at hand. Listen to the song she is singing; it in itself drives the entire plot and it's all you need to know to appreciate what she is going through, Mid-way through, a boy cat-calls her from the audience, calling her "Slut!" [Incredibly, no one bats an eye; no one intervenes to call him out, which is the film's first exclamation point that points out how men even at a young age get away with atrocious behavior that will, of course, lead to more troublesome behavior along the way.]
Undeterred, Autumn lashes back, singing as if this is all she has. She will later get back at the boy, but for now, she has more issues that are starting to take form. In a move that defines just how innocent she is about practically life in itself, Autumn goes to a clinic to get a pregnancy test. She gets the test done and realizes she could have simply bought it at a local CVS Pharmacy. When the test comes back positive, almost immediately the kind doctor handling her case makes a point that Autumn should not have an abortion but should instead put it up for adoption.
However, for Autumn, who lives home with her distant mother and unsympathetic father, this is not an option. Her perceptive older cousin Skylar (and excellent Talia Ryder) reaches out and in a wordless montage realizes that Autumn is indeed in trouble. Without any hesitation, the two young women make an unplanned trip to New York to have an abortion, come back, and resume their lives with a secret only the two of them will share.
Eliza Hittman's movie is a masterpiece of narration because it never gives the girls an easy way out. We who travel take for granted that big cities with mass transit, for example, offer perks for visitors like a one-day subway pass. Such minor detail is essential for the story because neither girls know this bit, and with the money that they've stolen from the pharmacy, which they have erroneously thought should be enough to carry them through an extremely expensive city like New York, they begin to use it for the simplest things like buying subway tickets.
This, and many other details, make even the slightest wrong turn, crucial for Autumn and Skylar who simply want to get through a quick appointment and return to their small Pennsylvania town and forget this ever happened. When the first clinic they go to, located in the middle of Brooklyn, informs Autumn that due to the advanced stages of her pregnancy she will have to go to the clinic's Manhattan location for assistance, she is dismayed but makes the best of it. Because you cannot stay overnight at Port Authority, they elect to ride the D train all through the night. [Again, it is important to signal that these aren't savvy travelers; they could have stayed at Penn Station, for example, with no problem at all, but then we wouldn't have the story we have now.]
The situation gets only worse for the girls — but mainly for Autumn — when she then gets the unwelcome news from a kind female counselor that her procedure will take two days. The counselor offers help via a shelter, but Autumn, who plays her emotions as close to her chest as she can until she reveals them in the most heartbreaking manner possible — and that is a gut-wrenching scene that threatens to swallow the movie whole–, chooses again to spend it with Skylar wandering about the city, traveling the subway until the following day, where they meet a boy (Thèodore Pellerin) who will help them financially… for a price.
Never Rarely Sometimes Always is an emotionally shattering little movie that must be seen to understand the plight of teen mothers — and women in general. It is in its own way a cry against the way women get treated by men — even young men — and the society that while seeming to want to do the best by them, often fails. Practically all the men in the movie are seen at some level of hostile to the two girls — ranging from a lecherous boss to an uncaring information agent to a lewd subway rider. Now, note that it is not a movie that hates men per se — but when you think that in many states abortions are illegal and women are still unprotected against the abuses of men, then you will totally understand the theme of Hittman's powerful story.
Watch it and discover a strong director in Eliza Hittman who pulls back no punches and while remaining on the side of restraint, she actually intensifies the power of the female voice that never gets heard or told except in the shadows. I promise you this movie will linger Sith you for a while as it did with me.