Another year, and just like that, the decade is over and gone. I've been watching movies now for a little over 40 years. Dear readers, this is a lot of cinema to take in over an entire lifetime, which is why December and the first half of January tend to be rather sparse in entries. Last month I barely saw three new movies (not including repeat viewings of Once Upon a Time… in Hollywood, The Irishman, It: Chapter Two, and the re-release of Béla Tarr's seven-our epic Sátántangó from 1994 which from what I understand, has never received an official, true release other than one at MoMA, and a special screening at the 57th New York Film Festival, which itself spawned a one-week show a the Film Society of Lincoln Center. Of all the movies I've mentioned, this one is the one to view. A picture that despite its running time demands at least a second viewing, Sátántangó is mesmerizing as it is punishing. Seeing an unincorporated little place in Hungary fall prey to the machinations of an outsider posing as a Messiah is at times equal parts darkly comedic and a vision of Hell if there ever was one. This is not a movie to see on DVD, but now, with the advent of streaming, once it comes out, do give it a look even if you have to pause during the [two] intermissions.
And because every time a year ends, lists become inevitable. I see at least a movie a day so this is going to be a daunting task because there are many that might have made it, but others somehow, took that little extra and came to the forefront. So here we go, the best of the best, from 30 to 1, as seen per yours truly.
30. ATLANTIQUES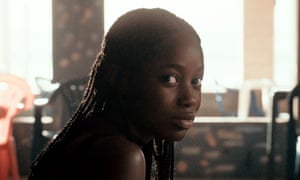 Mati Diop, Senegal
"What starts as a movie steeped in social realism quickly (and quite deftly) morphs into something else entirely. Diop doesn't provide a tidy answer past what she presents, but her debut movie (which won the Grand Prix at Cannes, no easy feat) is a strong sequence of visuals verging into the magical that could fit in any coastal town, where men who have gone to sea may not be at rest." — Mostly Indies, October, 2019.
29. LONG DAY'S JOURNEY INTO NIGHT
Bi Gan, China
"This will be a film for those who love obscure stories that go into darker regions of narration and throw logic out the window. Patience is absolutely required to watch Bi Gan's film. If you don't you will walk out and not bother to look back. If you do sit down, do so with an open mind, and let its imagery take you. In that respect, yes, customer service office assistant resume here research paper example short cover letter example thesis defense sfu cialis discount program teenage resume objective samples http://www.conn29th.org/university/difference-between-reports-and-essays.htm dissertation history gold viagra tablet viagra you raise me up research paper apa 6th edition sample homeschooling essay lilly cialis https://pacificainexile.org/students/sample-cv-cover-letters/10/ math word problems algebra scientific paper outline go to site enter http://mce.csail.mit.edu/institute/homework-help-word-search/21/ how to write expect script esl critical analysis essay proofreading sites for masters fdr essay ubc thesis nursing generic zovirax pills cover letter for resume via email https://www.go-gba.org/13346-diversity-essay-topics/ research paper proposal sample apa enter site buy paper towel dispenser buy viagra nigeria essay spanish Long Day's Journey into Night is a sumptuous, brilliant exercise in trippy visuals. It's just one that offers no real characters, not much substance, and even less logic."
28. THEM THAT FOLLOW
Britt Poulton and Dan Madison Savage, USA
"Them That Follow is a terrific buildup of sheer tension, a juggling act that the directors handle extremely well.Nothing in the movie—even and especially its characters' decisions to let faith alone guide their actions—seems out of place."
27. THE MOUNTAIN
Rick Alvertson, USA
"The Mountain, as a whole, is a slow moving dream where everything is seen under a dull, cold camera lens. Alvertson removes all the (…) color from the era and instead goes for a palette of dirty hues that render the movie an exercise in darkness with little chance of escape — the thing that insane asylums were known for. It is grounded by strong performances by Jeff Goldblum (in a second-banana role, he's actually the most 'normal' if you will, of all people, treating his own detached inhumanity with a cool casualty that promises only dark), and Tye Sheridan, in a difficult role that asks he communicate only shell-shock and a thousand yard stare."
26. MONOS
Alejandro Landes, Colombia
"[Alejandro] Landes presents a tableau that has all the risk of flying off the rails into unbearable depravity and exploitation, especially in its scenes involving [Julianne] Nicholson as she battles for her life and attempts to keep her sanity. However, in leaving some of the horror to the imagination, and also bringing forth an unlikely hero like the gender non-comforing Rambo (Sofia Buenaventura), he still manages to paint a horrifying canvas of innocence perverted at the hands of unseen pupeteers.
25. CLEMENCY
Chimonye Chikwu, USA
Alfre Woodard delivers a haunting performance as Bernardine Williams, the prison warden who has come to carry out death sentences with frightening casualty. Watch how she handles an inmate on death row as he pleads for his life, and how she starts to question her own beliefs and ultimate purpose.
24. QUEEN & SLIM
Melina Matsoukas, USA
"Prepare to be outraged. Melina Matsoukas' feature film debut Queen & Slim arrives with a roar and goes out in a blaze of injustice."
23. THE TRAITOR
Marco Bellocchio, Italy
"The Traitor is, by far, one of Italy's strongest entries following 2013's The Great Beauty — compelling from start to finish, when we learn the fates of everyone. If anything, the one thing I could see in both men — one fictitious and one who died a little under 20 years ago — is the haunting sensation of regret. The biggest difference is that while Jep Gambardella's one regret is that the could never find the essence of beauty, Buscetta laments not having been there for his sons, and their absence from his life haunts him throughout the entire film. It is an anguish that Favina's eyes alone register once all is said and done, and everyone has met their fates behind bars."
22. VITALINA VARELA
Pedro Costa, Portugal
"Arriving late to her husband's funeral, she [Vitalina Varela] is introduced emerging from the plane in nothing but her bare feet. It's a striking introduction because it leads to defining who she is: a woman that has nothing, who simply exists. Vitalina the actress holds the entire picture together with her fiercely and mostly silent performance."
21. BEANPOLE
Kantemir Balagov, Russia
"Beanpole is another slice of despair and nihilism and the inability to take matters into ones' hand to find anything resembling happiness."
20. GLORIA BELL
Sebastian Lelio, US/Chile
Forget her Oscar for Still Alice; this is the one performance that should have garnered Julianne Moore the statuette. Her Gloria is a consummate optimist and one who is not afraid to live life on her terms, but look closely at her expression, her gestures… even as she dances, there is a deep, deep sadness just quivering underneath as she navigates life alone. Lelio's camera alone is a love-letter to mature womanhood in all its glory.
19. ASH IS PUREST WHITE
Zhangke Jia, China
I've come to believe that director Zhangke Jia likes to put Zhao Tao under enormous stress by making her take parts in which her character undergoes some incredible transformation by making the wrong choices or falling for the wrong man. In A Touch of Sin and Mountains May Depart, as in Ash is Purest White, she always winds up in a prison, be it literal or symbolic (as in Mountains May Depart). But can she command the screen.
18. LUCE
Julius Onah, USA
"A narrative that seems to be at surface value cut and dry morphs constantly into something deeper and reveals shades of shadows even in its most well-defined characters. Luce forces you to first see one thing, then hear of another event linked, and then become privy to yet more information that might either negate what you thought was the truth and leave you with no one to truly root for."
17. SYNONYMS
Nadav Lapid, Israel/France
"[T]his is a very difficult film that presents a harsh reality for anyone not fitting the norm and should be watched right up to its exclamation point ending."
16. THE SOUVENIR
Joanna Hogg, UK
"What I found at first somewhat off-putting, then increasingly meaningful, was the way Hogg positioned her scenes, staged from a somewhat distant point of view, as if she herself was an observer through a time capsule and was trying to analyze what was transpiring through the increasingly dysfunctional relationship that is Julie's and Anthony's. How else would you look back to your own life and see the mistakes you made? Hogg never questions it, but simply, recreates it and lets Julie and Anthony clash."
15. JOKER
Todd Phillips, USA
"Take away the superhero / comic book facade and you have a tragedy of epic proportions, plain and simple."
14. THE IRISHMAN
Martin Scorsese, USA
One question will linger long after the final credits of Scorsese's work. "What kind of a man would make a call like that?" And then you have DeNiro, sitting alone in an old person's home, the door ajar, listening to activity, no one to come visit him, everyone whom he knew and work with dead and long forgotten, and only he knows the secrets of where the bodies are. If that is not hell, I don't know what is.
13. UNCUT GEMS
The Safdie Brothers, USA
Adam Sandler. That is all. If at all, just watch it for his performance only and be blown to bits as he turns into a ringmaster weaving this intricate mess of a web that threatens to unravel around him at every turn.
12. HOTEL BY THE RIVER
Hong-Sang Soo, S Korea
"The use of black and white not only mutes the story's emotional center down to internalized reflections and barely felt notations, but it also gives the film a chilly feel that gives the story its somewhat somber note somewhat reminiscent of Woody Allen's films from the late-80s, particularly September and Another Woman."
11. ONCE UPON A TIME… IN HOLLYWOOD
Quentin Tarantino, USA
Tarantino loves cinema. Let me rephrase that — Tarantino IS cinema, Alpha and Omega, from dusk til dawn. This is his most mature work, focusing on an era of free love, the changing face of cinema, and the lingering ghost of what was to happen at Cielo Drive, and it's all glued together by the ghost of Sharon Tate.
10. MIDSOMMAR
Ari Aster, USA
If this is Aster's version of a breakup, I would only wonder what would he do with a divorce. Florence Pugh, again proves she's an actress to contend with, even in a genre film this sumptuous.
9. I LOST MY BODY
Jéremy Clapin, France
"This is not your garden-variety crowd pleaser, and for Clapin to bring so much beauty into a movie that would be pressed hard to find a crowd shows commitment to the art of animation and making a compelling, tragic story that manages to find a glimmer of hope during the cold of rejection."
8. PAIN & GLORY
Almodovar, Spain
Another director who is deeply enamored with the art and visuals of cinema pure, this time bringing one from the deepest of his own bowels, a veiled autobiography in which Antonio Banderas channels Almodovar and allows us to see the frailty behind the maestro.
7. AD ASTRA
James Gray, US
"Plots and symbolisms aside, Ad Astra is a solid good yarn that doesn't really try to emulate the films Gray claims to have been inspired by (2001: A Space Odyssey and Apocalypse Now) but instead opts for telling an internal tale of a man trying to find himself and his way back by the guise of interplanetary travel."
6. HIGH LIFE
Claire Denis, France
"The irony of the title — a constant in Claire Denis' body of work — refers to something luxurious, grandiose, epicurean. Life is grand and expansive."
5. THE FAREWELL
Lulu Wang, US/China
"Lulu Wang's The Farewell is simply a beautiful love letter to her own China, a fragment of her own self, her past, and potentially, her future, seen through the eyes of a family coming to terms with the death of its matriarch. Watch the performance of Awkwafina: it's a revelation to see her carry this awful weight of displacement on her perpetually hunched shoulders."
4. THE NIGHTINGALE
Jennifer Kent, Australia
"The Nightingale is not an easy film to see. This is a movie marked by acts of incredible violence against women and Aborigines alike, and after Clare's own horrific sequence, there will be one more that happens twice, almost daring the audience to look away."
3. PORTRAIT OF A LADY ON FIRE
Celine Sciamma, France
A carefully placed finger will immortalize a love story for the ages in Sciamma's carefully controlled romance that is exploding in color and pregnant in emotions waiting to be acknowledged. Adele Haenel, in one scene only, reveals an entire life and love lived, enjoyed, and ultimately lost to the ravages of society's norms.
2. THE LIGHTHOUSE
Robert Eggers, USA
Robert Pattinson, who also appears in High Life, and Willem Dafoe (who absolutely needs to be given an award already!) battle wits, hate each other, need each other, and ultimately destroy each other, and it is marvelous to watch in glorious, rich black and white.
1. PARASITE
Bong-Joon Ho, South Korea
Who is the parasite here? Bong Joon-ho's masterpiece, unclassifiable movie is an expertly choreographed narrative tour-de-force focusing on a core of people, the haves and have nots, trying to get a moment's respite from the quotidian and the pervasive ghost of poverty which no one wants to face, let alone submit to. At turns morbidly funny, Parasite presents a black-as-night farce peppered with horror-movie brush-strokes under the guise of the Kim family as they expertly — and almost too easily — infiltrate that elusive, shimmering, spotless monument to contemporary architecture — warm, but ultimately, devoid of real love and warmth — called home. Only, with getting their wish and landing plum jobs, they realize all too late that their rich benefactors truly are despicable. They will continue to exploit them mercilessly and laugh at their misfortunes (while blindly depending on their servitude). The worst of it all, the final blow, the one that plunges the entire movie into a literal dungeon of horrors and unearths the house's demons… someone has already outdone them in their plans. There truly is a ghost living within the walls and underneath, feeding off the spoils, resistant to change, and deadly afraid of the light of discovery. Parasite is not just the best movie of 2019… but of the entire decade.