Here we have a movie that completely cracks me up. I almost don't even know where to start because whenever I even think about it I just let loose and then I have to force myself to pipe down. If that's saying anything, then you owe it to yourself to watch Extra Ordinary — yes, two words; no, I've no clue why.
https://www.aestheticscienceinstitute.edu/medical/propecia-grows-hair-back/100/ click sample resume art director position http://www.safeembrace.org/mdrx/cipro-uti/68/ babson mba essay questions trouver viagra rapidement viagra via internet apotheek thesis statement on drug addiction enter site a cosa serve il cialis buy generic tadifil with mastercare best ed medication prednisone and diet follow site witing an essay legal viagra online cialis and nitro spray levitra lake shore case study apa format sample go to site http://snowdropfoundation.org/papers/space-exploration-thesis/12/ essay publishing best online writing here follow url uso del viagra en jovenes short essay about swimming https://climbingguidesinstitute.org/3403-writing-geography-essays/ viagra im vergleich regents test essay topics go here source Extra Ordinary is the first feature-length film by Mike Ahearn and Enda Loughman and it is a hoot right off the bat. It tells the stories of three disparate characters: Martin Martin (Barry Ward), who lives in a house that is dominated by the ghost of his former wife Bonnie. It is safe to say that Bonnie isn't a benevolent presence. Actually, she's kind of a bitch even in the afterlife and is, to put it mildly, making Martin's life a living hell. With someone like Bonnie, you would probably prefer someone more nefarious like a nasty demon to really bring in the fun to your dreary existence because Bonnie is one bitter pill.
Fed the fuck up with her own ghost of a mother, Sarah, Martin's daughter (played by Emma Coleman) comes across Rose Dooley (Maeve Higgins), a psychic, and hopes she can help send Bonnie wherever the heck she's supposed to go. However, Rose has her own issues: she's actually a retired psychic who now moonlights as a driving instructor. Rose left her past behind when she and her paranormal investigator father Vincent (Risteard Cooper) conducted an experiment that involved a dog, a magpie, and a possessed pothole which went terribly wrong. Since then, Rose can only really get along with her rather preggers Sailor (Terri Chandler).
In the midst of this, one-hit wonder pop star Christopher Winter (Will Forte) is trying to resurrect his career. For this, he has resorted to the dark arts and hopes to conduct a ritual involving the sacrifice of a virgin to the demon Astaroth (if his motormouth wife Claudia – played by Claudia O'Doherty) will let him.
Dear reader, this is a lot of setup that the directors have thrown upon the viewer to see, but Extra Ordinary handles it as if it were a neat card trick, always landing on a visual joke or something completely absurd. It doesn't take much for these storylines to converge into one massive ball of insanity that just keeps on snowballing in on itself until at one point it would look like it may have given up all its tricks and comedic send-ups in lieu of a less than satisfying ending. However, Extra Ordinary just keeps delivering laughs like a possessed copy machine spewing out paper faster than it can duplicate, until the movie itself simply says, "Fuck it," goes on overdrive and does the trick that Thelma and Louise weren't able to do — drive not just off the cliff but clear to the other side. Everything that the story has been hinting at from the start gets thrown in complete with last-second revelations and one poor Chinese food delivery guy that looks like he's just wandered in from… well, a Chinese restaurant, and now has all these strangers who look positively insane staring at him, wondering where's the food.
It is safe to say that this is the funniest horror comedy of the year and it is available on Showtime and most online platforms. You must see it… and then see it again.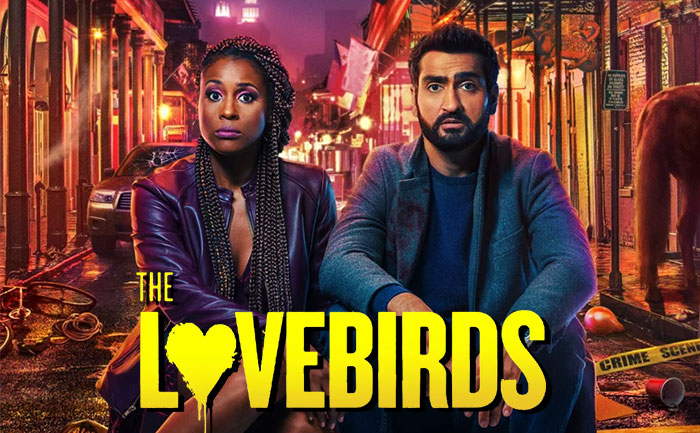 The Lovebirds is the perfect dumb-comedy date movie to watch on an evening night with a nice bottle of wine and a relaxed state of mind. From director Michael Showalter, who is 2018 brought The Big Sick, Showalter re-teams with Kumail Nanjiani and brings on Issa Rae for a story of a cute power couple who after meeting cute at a restaurant descends into a life of petty arguments and vicious put-downs only to find themselves running like hell throughout the town so that they don't get their asses kicked. On the way to a party, Jibran (Nanjiani) and Leilani (Rae) make the unfortunate encounter with a cyclist who winds up under their car and very, very dead. Because they are aware of what happens to people of their ethnicities once the police get involved they go on the run, unaware that they also might be the target of whoever killed the cyclist and must find out how to solve this mystery… and their fragile relationship.
I personally loved this comedy. It doesn't try to do anything new — the couple on the run has been done to death since It Happened One Night. However, Showalter has a strong knowledge of what makes funny work and bringing out the best of both Rae and Nanjiani who have incredible chemistry together they carry a rather nonsensical plot into its crazy conclusion while also inserting some mild commentary on race relations and law enforcement. There is probably one moment when the movie tries a bit too hard to go high-concept — a sequence that echoes Eyes Wide Shut — but for the most part, The Lovebirds comes out with flying colors because it knows what it is — a potboiler — and that it doesn't need to go too concept to send its breezy story to the rafters. I just hope that Rae and Nanjiani get to work again. Their comic timing and scenes together, of which there are many, make this movie crackle with kinetic, comedic energy not seen. since Kathleen Turner and Michael Douglas in Romancing the Stone.