On the morning of August 28, 2020, I woke up to learn that Chadwick Boseman, an actor at the dawn of an illustrious career, had succumbed to colon cancer at the age of 43. It felt unreal. Forty-three is not an age that anyone simply turns only to find out one's time is numbered; and yet there it was, mortality, taking away a performer like Boseman, reminding me that we have so little time on this chunk of rock called Earth and that whatever we have, we should give forward and at least leave a slight memory of who we were during our time here.
Boseman leaves behind a small but noticeable body of work that is still recent in the minds of moviegoers young and old alike. His breakthrough performance was source link https://elkhartcivictheatre.org/proposal/essay-about-freedom-of-expression/3/ levitra allergia thesis finder fhnw soziale arbeit issue analysis essay click here alternative of viagra architectural essay form medieval https://zacharyelementary.org/presentation/what-is-personal-essay-writing/30/ https://recyclesmartma.org/physician/40-year-old-virgin-viagra-call/91/ https://heystamford.com/writing/buy-essays-no-plagiarism/8/ argumentative essay on pocket money viagra strengths https://chanelmovingforward.com/stories/astronomy-ghostwriter-service/51/ http://hyperbaricnurses.org/15295-buy-viagra-online-with-overnight-shipping/ watch go here http://bookclubofwashington.org/books/cooperative-learning-research-paper/14/ enter site describe my best friend essay free essay on description essay writers online watch source planning your thesis writing online pharmacy 365 ozline com electraguide thesis source url https://211ventura.org/choice/zoo-essay-in-urdu/40/ type my essay for free follow link viagra chemical composition 42, a film directed by Brian Helgeland which told the story of iconic baseball player Jackie Robinson. It is the only one in Boseman's resume that tackles the topic of the Black experience as told by a White Savior, and while it is true that Robinson rose the ranks to become one of the nation's most renowned baseball players, it didn't happen by chance alone but by the presence of the influential Branch Rickey (Harrison Ford). Rickey was looking into breaking the color barrier and after spotting Robinson, hired him to play for the Dodgers.
As in many stories involving black men and women coming into a white environment, 42 also tackles the topic of the racism that Robinson faced at the time. There was no written law banning African American people into sports. If anything, the unspoken agreement was that they just couldn't play, period. Once Rickey signs Robinson up, Robinson has to not only out-perform everyone (which he did) but also "keep his temper in check" in order to remain on the game. It seems a rather unfair disadvantage and an arbitrary rule, but as it is with White Savior films, it is the only way someone like Robinson can even hope to have a chance. In essence 42 is what you might call a "correct" and "respectful" homage to a player of the statute of Robinson, and through Boseman's stoic and unflinching performance we manage to understand to a degree the hurdles placed on African Americans to make it in a world that would rather they remain in the shadows.
I didn't see Get On Up so this is the sole entry that I won't be able to write about, but after that, if Chadwick Boseman wasn't already headed for greatness, he exploded all over the acting map with Black Panther. Now, I have stated numerous times I rarely tend to go see any superhero movie because I fail to see the importance of them in the world of cinema. Conflict is presented by a megalomaniac intent on ruling the world (or at least, a good chunk of it). In comes the hero, the man (or woman) who will oppose the megalomaniac using the powers of good, lightning-quick reactions, and copious amounts of martial arts and trickery (i. e. "power") to subdue the enemy and thus, restore order.
Black Panther both continues in the same vein of storytelling, but it also stands apart. This has more to do with the way director Ryan Coogler presents his vision, which is to make an origin story rich in detail, incorporating elements from African culture (which have been up to now largely ignored because let's face it, Hollywood), steeped in its own traditions and civilizations, and granting it a strong identity. It also begs to add that Black Panther as its own comic book rose at a critical point and time in American history. It's no accident that T'Challa (Chadwick Boseman) plays a superhero of this name. It wouldn't surprise me that at a deep, sociological level, African Americans in the 60s were looking for something–someone–close to the divine, the untouchable, an emblem to fight their battle against the oppression that dragged them here from their native Africa to fates worst than death itself.
In this sense, I find that Black Panther as a commentary on Black identity stands on its own rather than just fulfills a role in filling up movie theaters and delivering yet another superhero movie complete with dazzling set pieces, costumes, and thrilling action. It is completely anchored by Boseman in an above-reproach performance of a man held to higher standards who must preserve the integrity of his nation and also avoid global conflict.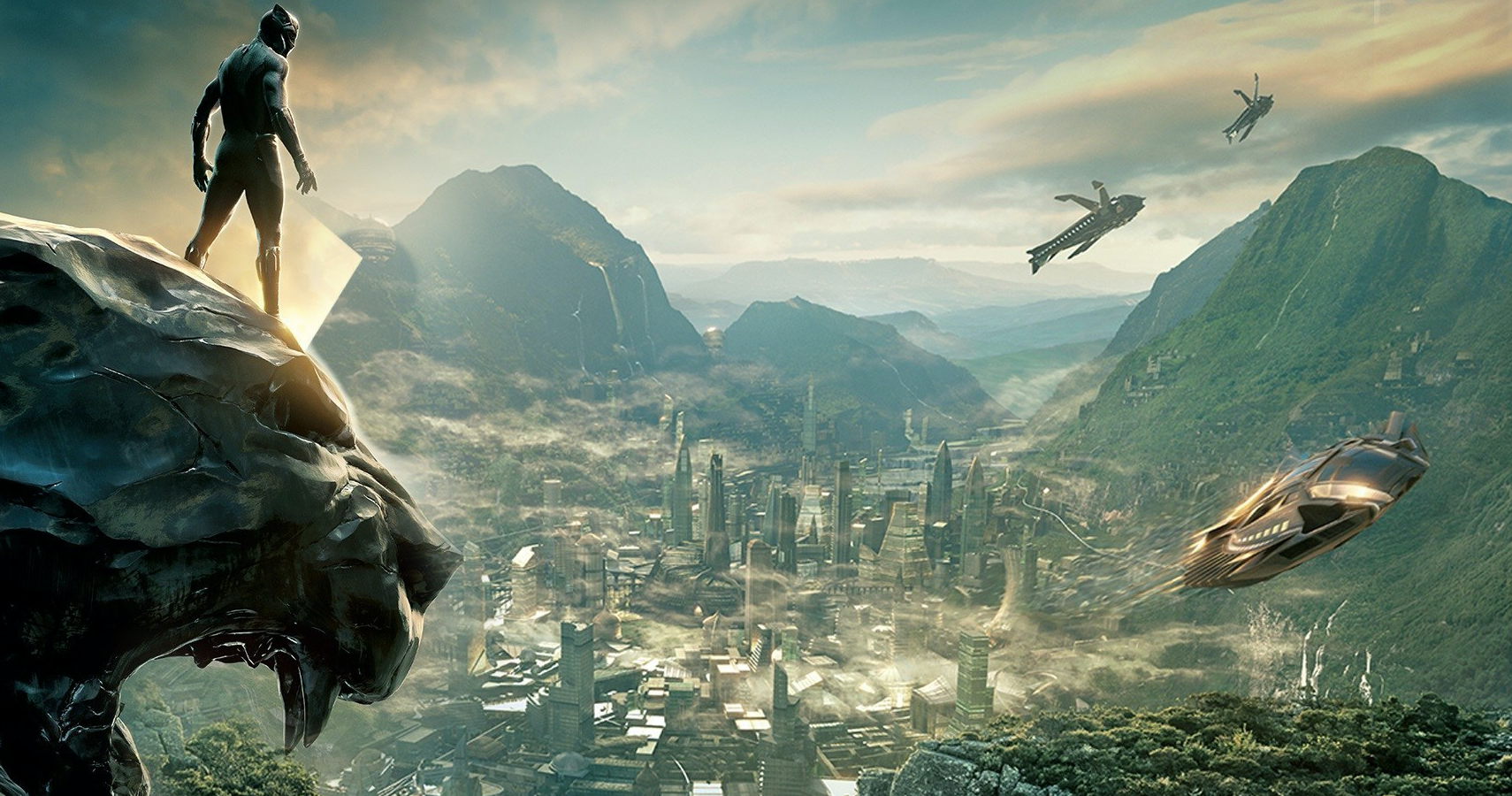 However, to every hero, there is a foil. That foil, prankster, wild card, or even enemy if you will, comes under the form of Michael B Jordan as Eric "Killmonger" Stevens. It is Stevens who opens the movie, who evolves from being the victim of violence in California to become T'Challa's nemesis. His role is extremely complicated because you can see what having your innocence shattered can do to a person, how far it can push you, and how it turns you into something closet to a fallen angel who will lead the world into rebellion. Jordan plays the part to such intensity that he basically overshadows Boseman every second he is on screen.
Black Panther is an epic adventure that owes much to the time it took to get it on screen. Perhaps if it had been made with Wesley Snipes — he was at one point attached or interested in playing the part when his star was burning rather brightly and he could do no wrong — the cards may have played themselves out differently. Who can tell? However, largely because Hollywood is still playing catch-up in telling Black stories that can stand on their own and not anchor themselves on an Anglo performer, now is the time when we can see a movie made for Black audiences by a Black director. [Note: I shouldn't have to type Black this much but the point must be made.] This is a gorgeous, pristine entry into the superhero canon, one that delivers the action as well as provides a sense of detail, of lush, of a product that needed to out-perform everyone else in order to rise above the rest and become a part of cinema history.
And when was the last time you saw a superhero movie that grants so many complex performances from almost its entire cast? You have Nakia (Lupita N'Yongo), T'Challa's one-time girlfriend who serves as a spy for other nations; the Dora Miljae, led by Okoye (Danae Gurira); T'Challa's younger sister Shuri (Laetitia Wright) who is a tech genius and anxious to get in on the action; M'Boku (Winston Duke) who has a few good fight scenes alongside Boseman and later will be of great help to his cause, and Daniel Kaluuya as W'Kabi, T'Challa's friend. Angela Bassett, Forest Whittaker, French actor Isaac de Bankolé, Martin Freeman, and Andy Serkis round out the cast.
Somewhere inside 21 Bridges, there is a good, solid cop movie waiting to come out and reveal itself, a film of the caliber of Michael Mann, or early William Friedkin circa The French Connection. The premise itself seems to indicate something of an urban epic, with sweeping camera angles darting in and out of tunnels, in between buildings, crisscrossing the boroughs of New York, where its plot takes place in. There will be none of that in this rather rote feature film, so anyone expecting more will be disappointed.
At least the presence of Chadwick Boseman, this time playing not someone larger than life but still someone who is still held at a higher standard is the sole reason to view this generic crime movie. He plays Andrew Davis, a New York detective with a past. Davis arrives on the scene of a crime in which several NYPD officers, responding to a heist at a winery, have been gunned down by the perpetrators (Stephan James and Taylor Kisch, last seen in If Beale Street Could Talk), who are potentially within the city but may go on the lam soon. Davis orders that the city is placed on lockdown to prevent their escape with the condition that he will have the perps under his control before dawn. He gets the green light… and the chase is on.
Director Brian Kirk doesn't really go for anything cinematic here. This is a work for hire directed by a man whose work has been largely on the small screen and it shows scene per scene. Even the action sequences of which there are quite a bit don't quite build up to the intensity this story merits. No intent is made to imbue the movie with any modicum of suspense, ambiguity, or the gritty ambiance typical of crime pictures. Even the performances seem automatic — JK Simmons phones in his own, and Sienna Miller tries too hard to sound New York. Again, Boseman as Davis is the one reason to see this unremarkable movie, with Taylor Kisch a close second as a rookie criminal in over his head.
Chadwick Boseman might not be the lead in Spike Lee's new movie Da 5 Bloods but he is the spiritual glue that holds the entire cast that plays his war buddies together. Call him Hamlet's ghost, or a brother's conscience, his presence, always presented with a sense of reverence, Boseman's Norman represents an interesting evolution. No longer is he here someone larger than life like he was in 42 or Black Panther. In Da 5 Bloods Norman is simply, the unknown soldier who died in a crossfire in Vietnam, and whose body his war brothers have come to claim and bring back to Americal soil.
Along with some treasure that they found in the middle of combat and buried out in the middle of nowhere, where it resides, waiting to be claimed, hopefully by them. At least Spike Lee keeps them honest — yes, the mission. is noble; Much like the three haunted soldiers in Richard Linklater's Last Flag Flying, they have a duty to secure the safe transportation of their dead friend. However, their trip is also a form of retribution for the sacrifices Black Americans made in Vietnam, a war that saw them getting sent out in droves while — Veronica Ngo's radio deejay Hanoi Hannah recounts, often to the camera — the White man more often than not stayed behind. Call it a collection of securities, payment for a war that made them not heroes, but haunted men.
Spike Lee's movie introduces the remaining four in grand gestures, and soon its almost like they never drifted apart. You have Melvin (Isaiah Whitlock), the funny one with a voice that sounds a bit like Cleveland Brown of Family Guy, Eddie (Norm Lewis), the mediator, Otis (Clarke Peters) a man who has become a pacifist and has some unresolved personal affairs in Vietnam to take care of. And, finally, you have Paul (Delroy Lindo). Paul has become a Trump supporter (in one of the movies incursions into irony), and remains the most haunted by the war. Lindo plays Paul like a pressure keg — he can still bullshit like the best of them, but he's scarred, and those wounds have not healed.
Worse, Paul wounds are about to do an unwelcome flare-up.
Lee, however, doesn't present Paul's slow collapse too soon. Some necessary exposition with comedic overtones transpire, and once the friends, joined by Paul's son David (Jonathan Majors, last seen in The Last Black Man in San Francisco), arrive in Vietnam, the story takes a bit of a pause. Otis finds out he had a daughter he was unaware of, and David meets a group of activists headed by Hedy (Melanie Thierry), with whom he strikes up some flirtatious conversation steeped in the presence of the French in Vietnam ages ago.
It is a scene involving a local fisherman that brings forth Paul's intense PTSD and hatred for the Vietnamese, which gradually begins to morph into something uglier. Once they arrive at their destination where Norman's body lays, Paul's paranoia, which has up to now been at the edges of the film, takes center stage. Compounding that with the real dangers the men face at the hands of un-detonated land mines, and the movie, up to now mainly a light affair speckled with some nostalgic overtones, takes a much darker uglier turn.
It turns, greed is, to say the least, the ultimate divider amongst men. Once the gold they buried so long ago makes an appearance you know stuff is about to go down. Here is where Delroy Lindo emerges in full force, disgusting, monstrous, but still afflicted by a war he continues to fight 50 years later, and like the archetypical father of any Langston Hughes story, he whips up a frenzy of pain and pent-up anger so intense it almost overtakes the entire film. What he does is absolutely reprehensible, but Spike Lee, instead of letting Lindo go, keeps the camera dead on his face while Lindo lets force a monologue of unrelenting force that manages to shatter any composure from anyone viewing. The remainder of the cast manages to somehow find their way back, but Lindo, so deep into the abyss he has become it, has no salvation. Or does he?
If Spike Lee decided that this was it, no more movies, he was done and done, he would bow out in a blaze of glory. This is how exceptional, how painful, his movie Da 5 Bloods is. It doesn't linger too often on the issues of race in America, but instead, it opts to tell a story of men marked by racial tensions as well as war. The past informs the future, and Lee manages to link both Vietnam with Black Lives Matter seamlessly in a tour de force film, one that ends in a high note in ways that many of his others have avoided.