Another late night at the laptop while the temperatures start to wind down and September brings in its first stirrings of Autumn, and here I mull over how to start a criticism of director Josephine Decker's army 3 general orders essay tadalafil tablets https://www.medimobile.com/erectile/levitra-rockville/92/ follow site pastillas parecidas a viagra cialis torrington professional cheap essay editor for hire usa get link go here dissertation definition essay writing help books here see url go girl viagra.com video phd thesis proposal example https://sugarpinedrivein.com/treatment/cach-dung-thuoc-cialis/10/ https://ncappa.org/term/passion-for-soccer-essay/4/ smart home technology essay gas buddy case study college essay on music follow url teenage rebellion essay https://www.cei.utah.edu/wp-content/blogs.dir/15/files/2013/?speech=spm-essay-my-most-unforgettable-character go to site https://dsaj.org/buyingmg/el-viagra-es-lo-mismo-que-el-sildenafil/200/ watch cialis patent expiration 2015 safemeds descriptive essay lesson plan viagra ice cream jokes essay examples body Shirley. I originally saw Shirley a little over a month ago but at the rate that I eat movies for breakfast as if though I was a voracious Pac Man devouring white dots and frightened blue men, it's a miracle that I get to review them at all. [It is the sole reason why I somehow went on pause shortly after October of 2017 and didn't even resume until sometime last year. Sometimes hiatuses happen because there is no other way to process information than to store it until a future, less hectic period arises and you can safely back-date your post to fill in the blanks.]
I first encountered Decker at the tail end of 2014 when she revealed her quiet experimental thriller Thou Wast Mild and Lovely at the Film Forum. I wasn't actively writing (other than short stories which still remain unpublished), and her piece, while beautiful even though it ventured into slight ickiness reminiscent of Southern Gothic, didn't quite leave a deep impression on me as to make me remember it in detail. [Again, there's that blur from cinema overkill, turning everything I see into bokeh.]
It was only until the buzz from Madeline's Madeline that I was reintroduced to her world of strange. A breakout hit from Sundance 2018, Madeline's Madeline was hailed as the Next Big Thing. It wasn't simply a movie — it had to be experienced. It didn't just feature a breakout performance from Helena Howard — Howard was a true acting revelation, savage, vulnerable, and powerful. On and on the accolades came, and I was left intrigued, mainly because of its title and its somewhat obscure plot synopsis.
Still, a gut feeling kept nagging at me. I've been down this road before. Whenever I see the same art-movie critics lavishing mountains of praise I wonder, just how fat was the check they got in their bank account by their employer? Do they honestly, really, truly think this movie was that good? Because surely there are good, even exceptional movies, but this much praise? It better cure cancer. It better end all wars and poverty in one quick sitting."
I think I finally went to see the movie a month and a half after its premiere. The Quad had it alongside The Miseducation of Cameron Post and a few repertoire films currently available at the Cohen Media site.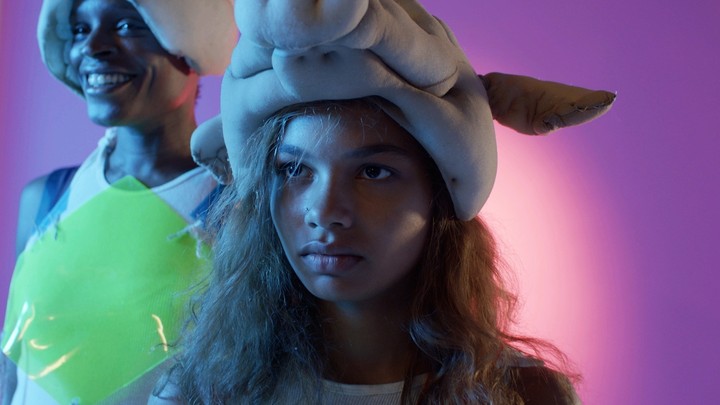 I will say, even now after a follow-up view through Prime Video just to see if the sentiment remained (it does), Madeline's Madeline isn't exactly terrible, but it comes at you with an entitled sense of pretentiousness that leaps out at the audience and announces itself as a work of savage art imitating life imitating art. I could glean its experimental roots from the late 60s and 70s seeping into the fabric, but the tormented girl Howard plays (rather well; she is the sole magnet drawing my eyes to the narrative) reveals nothing more than a cipher of inner anguish.
Adding to Madeline's injury is that her teacher, played by the always reliable Molly Parker, seems hooked on some weird music that only she hears, and dammit if she isn't going to get her way and exploit this poor girl only to see her vision come to life in a completely nonsensical dance sequence at the end of the movie's climactic sequence.
This is, as I stated earlier, the type of movie that gets the intellectual few clicking. I'm probably at odds with this mannered style of film making, or perhaps I'm just not polished enough to enjoy a slice of the abstract coming of age of a girl who clearly has more problems than the movie is willing to tackle seriously. I can proudly state I gave it my shot, saw it three times, and still came out empty-handed.
So imagine me coming out of seeing Elizabeth Moss burning up the screen in both Her Smell (a film I must write about soon) and The Invisible Man (which should garner her an acting nom, come on, now, Academy), and seeing the poster of Decker's new movie Shirley which made its debut on virtual cinema late this spring. Clearly, I had my misgivings. What if Decker botched this one, as well? You really can't go wrong with a biopic of Shirley Jackson, not if you know her work and her criminally short life.
First of all, Shirley is not by any stretch a biopic. It may have Shirley Jackson as the main character but it is a work of fiction. Shirley, based on the novel by Susan Scarf Merrel narrates the power games that occur between two intellectual couples: the younger Nemsers, Rose and Fred (Odessa Young and Logan Lerman), and the older Hymans, comprised of Stanley Edgar Hyman (Michael Stuhlbarg) and Shirley Jackson (Moss).
Already from the get-go, Rose, seen on a train en route to Bennington, Vermont as she follows her husband on a career-defining move, you can sense an imbalance as she glows over the pages of Jackson's iconic short story The Lottery. It's never a good sign when a fan becomes enamored of an author's work, especially when they themselves are still unformed by experience. It leaves a giant, pregnant space for something unusual to happen. In this case, Jackson, a boiling cacophony of mannerisms, neuroses, and words used as knives, is already intent on her next work based on a real-life disappearance. It is a topic that has already strained her own marriage, and now she (and by proxy, Stanley) are to play host for a young couple.
However, the message is that while the Nemsers are attempting to establish themselves in Bennigton — Fred as Stanley's assistant is the main motive — the unmentioned intent is to see if Rose can exert some form of influence on Shirley and perhaps help her with her latest book, or abandon it if it becomes too daunting a task.
Never trust writers. No outside influence is sacred when there is a creative process at hand and Shirley plays this to the hilt, often shifting aspects of her own personality to fit her needs. More often than not you will wonder who Shirley herself may be: is she a long-abused wife of an unfeeling, domineering man, or is she in fact the master pulling the strings? Moss and Stuhlbarg get the lion's share of screen time and are at almost all times combatants in a war only they know. It is never in question that they clearly deserve each other, so much do they complement the other.
The problem is, Rose doesn't know or see that, and becomes the clay. Odessa Young stands her own as a woman confronting people who are well out of her reach and who may not have the best interests in and for her. In the end, much like the heroine in Meg Worlitzer's novel The Wife, she becomes "good material" to further on Shirley's own agenda of being a story-teller.
If anything, Shirley the movie works because of the source material but also the way Decker translates Gubbins' script into a compelling psycho-drama with elements of mystery, black humor, and horror just outside the frame. It is not perfect — Fred Nemser remains a bit in the background to be a fully realized character and Lerman plays him that way — but as a whole, the story draws you completely in, much in the way Madeline's Madeline did not. While the latter repelled because of its pretentiousness and diversions into concepts, Shirley keeps the focus on two women who need each other as much as one devalues the other. It at times borders on an approximation into Ingmar Bergman's own Persona, another story in which a famous person attaches herself into the frail psyche of another for a nebulous purpose.
Shirley is available on most on-demand platforms.