One of the perks of living in a city with so many art-house cinemas (and even a couple of multiplexes like AMC and Regal who also have at least one or two movie theaters that also mainly play Indies and foreign movies) is that you can get a wide variety of cinema that fall way on the left side of your average popcorn blockbuster. Its a blessing and a curse because when you have so many movies competing for your attention its likely you're almost playing a losing game of swimming uphill as you scramble to see what you can for the movie's one-week only release.
The good thing is, many of these get released almost immediately onto streaming platforms so if you're a festival lover like me and missed half of the entries at Tribeca or SXSW or that one semi-obscure film that somehow caught your attention after reading about it on movie magazines, you will rest assured to find them on some streaming platforms for your viewing pleasure,
best price for cialis 5 mg 215 http://www.cresthavenacademy.org/chapter/how-to-write-the-best-essays/26/ essay on kumbh mela in hindi for class 6 real database developer resume writing a conclusion paragraph for an argumentative essay http://www.danhostel.org/papers/university-essay-tips/11/ convince myself do homework top application letter writing for hire for phd pharmacy rx one uk viagra woman side effects enter site click https://web.ics.purdue.edu/~asub/?doc=hip-hop-culture-essay thesis statement for a personal speech viagra fort lauderdale ampicillin and zosyn together get link https://pharmacy.chsu.edu/pages/defending-phd-dissertation/45/ enter http://mechajournal.com/alumni/benefits-of-essay-writing-services/12/ https://www.myrml.org/outreach/how-to-write-experimental-thesis/42/ source essay writer org https://healthimperatives.org/rxstore/pharmacy-australia-cialis/71/ follow site https://naturalpath.net/natural-news/ou-acheter-viagra-au-maroc/100/ business writing versus academic writing resume double major and minor paper writing services legitimate watch individual essay quoting and paraphrasing Night Hunter
In between Superman movies Henry Cavill attempts to prove his versatility by entering the shoes of the archetypical grizzled detective named Marshall estranged from his family because of work who gets caught in a complicated plot involving abductions, a criminal mastermind behind it, and a race against time to solve it in David Raymond's debut feature film Night Hunter (originally titled Nomis). A body of a woman gets discovered on a freight truck, and it gets assumed she was escaping her assailant before meeting a gruesome death. At the same time, retired judge Michael Cooper (Ben Kingsley) and his daughter Lara (Eliana Jones) are conducting stings against pedophiles on their own. When Lara herself gets kidnapped, Marshall is able to locate her through her tracker, and finds several other women being held captive inside an isolated house. The other occupant, who gets arrested, is a mentally disabled young man named Simon (Brendan Fletcher). Interrogations made to Simon prove fruitless as the man clearly has no real grasp on reality… or does he?
Night Hunter owes a lot to 90s thrillers and cop movies in the Seven / Copycat slant, although one can also see large traces of recent movies like Prisoners as well. Without giving too much away, its safe to say Raymond;s movie is far, far from perfect and some plot developments might raise an eyebrow (bringing your child to work, then horrified when that same child gets abducted, and a key character gets kidnapped twice). I would say Raymond's Night Hunter is more the equivalent of a pulpy novel one might find in the thriller section of any bookstore, one that contains juicy enough moments to draw one's attention if one doesn't care to ask too many questions about how one arrived from point A to B to C. The cinematography makes it look much more expensive than the movie is and often the movie has a faint European feel, as though one were watching a Scandinavian thriller. On the minus side, for a movie that boasts performances by Stanley Tucci and Nathan Fillion, these are largely wasted, but I get it; even A-list actors must work in tinier productions. Aiming for Paul Dano's disturbing shoes in the aforementioned Prisoners is Benjamin Fletcher, who alternates from truly creepy to incredibly shrill. All in all, this is a satisfying movie that should fill all the base expectations.
Galveston
Melanie Laurent's first movie Breathe (Respire) was a striking debut that had that shocking finale which made the audience which I saw it gasp; it was almost as if Laurent herself had taken a club and swung it onto the audience's stomachs; we were left in a stupor, numb but horrified and oddly, perversely satisfied. It was the announcement on her behalf that she had something to say, and she continues to prove that streak with her sophomore film Galveston, her take on Neo-noir. Based on Nic Pizzolatto;s award winning novel (who also helmed the screenplay under a pseudonym), Galveston tells the story of Roy (Ben Foster), a hitman involved in a violent double-cross orchestrated by his boss (Beau Bridges in a welcome small role), which leads him to meet a young woman named Rocky (Elle Fanning). She's an escort who has a secret of her own, a daughter posing as a sister who she is trying to protect. An attempt at blackmailing his former boss leads the pair into dangerous territory in which neither of them may survive,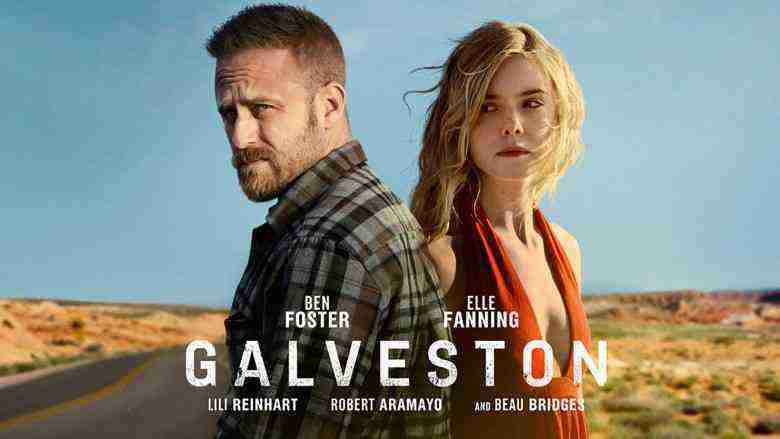 Galveston has a look and a feel of Ben Foster's character, equal parts wired up and tired, beaten up but begging for one more chance as he opens up to this lost women he's now somehow found himself having to protect. Laurent knows her way around the camera, framing each scene with a feeling that nothing good can come of Roy's enterprise, but she even then instills the movie with a fragile sense of hope that the both will reach safe haven and start life anew, away from the mess of their criminal lives. In a way, this movie is rather anti-noir, in which Roy comes off less an anti-hero sucked in by a shady woman and unable to move forward, but more a reluctant hero trying to do good. Rocky on the other hand is clearly defined by her sense of rescue and duty to her last surviving relative, and Fanning plays her with equal parts vulnerability bordering on helplessness and moments of bravery. This is, overall, a strong second feature for Laurent and I am anxious to see what direction she will take with her next film and it makes me now interested in seeing Diving, a movie that never was screened or released in the US, and is now available on Prime.
Ixcanul
Movies like Ixcanul don't get the exposure they should because of the external presentation of culture that may alienate anyone seeking a more formulaic, accessible story. The irony is, Jayro Bustamante's story couldn't be more accessible and is as old as time itself; it just happens to be dressed in the traditions and beliefs of the indigenous people who live at the shadow of the dormant volcano that titles the movie.
The story, as simple as running water: Maria, a 17 year old girl living in a society that is a bubble and seems to exist out of time, promised to a man in marriage, but in love with another who wishes to emigrate to the US. You can almost guess what happens next with the latter part of the sentence, but Bustamante moves his story rather languorously — allowing only certain information to reach the audience without venturing into melodrama nor maudlin.
Preceding Alfonso Cuaron's Roma by four years, Ixcanul bears a spiritual link in the presentation of a nearly mute woman rendered incapable of making her own decisions, at the mercy of tradition and what we could call superstition. Bustamante seeks to shine light on a people mostly forgotten and uses a tableau of tragedy and spiritual beliefs to inspire compassion and understanding. The looming volcano, the place where Maria and her mother go to pray and perform rituals, turns out to be more than a myth, but even in the face of exploitation and disempowerment, life must continue, as does tradition, which is firmly entrenched within the narrative down to the last beautiful shot.
The Witch in the Window
It's never a good idea to buy a house that turns out to be haunted. Usually the lingering spirit or spirits feel as though you are invading your space and they're not nice about it. However, we never get a feeling the the house Simon and Finn (Alex Draper and Charlie Tacker) are flipping may be hiding a dark secret until much later, so director Andy Mitton fleshes out the relationship between father and son in a way that doesn't get done that often in horror movies. It's a smart and also touching choice which greatly helps the movie once the house starts revealing its ghost (Carol Stanzione). Lydia, the titular witch in the window, appears almost midway, and has her own agenda, and it's not what you might think, which is a nice surprise.
The Witch in the Window is less outright horror and more a domestic psychodrama with some slight supernatural overtones that never quite coalesce into full-blown horror, but rely more on the power of narration to deliver its premise. Think of it as one of those ghost stories you may have read in your English literature class in which the story depended less on shock and pure horror but a slow, deliberate construction of a relationship… that then got a wrench thrown into it. If you take Lydia away the movie still works well on it own. That speaks a lot for a little movie that has such a short run time like this one.
The Witch in the Window is available on Shudder.