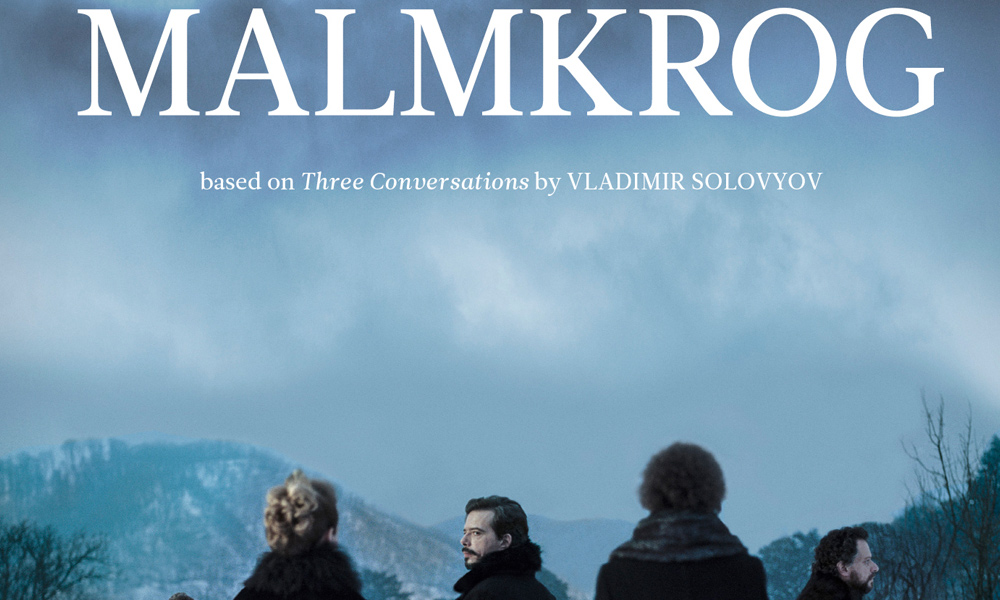 It never disappoints: one movie will somehow not make it through translation and will probably be seen as a director's incursion into creating work only meant for a few instead of a larger audience. Cristi Puiu's latest movie Malmkrog, which made its debut at the very beginning of the 58th New York Film Festival, is that movie. A 200-minute conversation, Malmkrog takes place mainly indoors and with the confines of an elegant manor house for which the movie is titled. In that manor, five upper crust individuals drag their thoughts and opinions on everything from Christianity's stance on war to the Antichrist, all in the favor of some intellectual exercise. In this conversation, we see subtle animosities flare up, talkers attempting to one-up the other in order to dominate the table, and the possibility that the tea prepared for them might have been poisoned by an unknown servant. Progressively, as one conversation segues into another, and yet another, we do start to observe a pattern emerging. One of the women (there are three), Olga (Marina Palii), who comes across as the least intellectual of them all, tends to get prodded by her guests. Even her husband Nikolai (Frederic Schulz-Richard) at the movie's climactic moment actively squares off with Olga, almost as if attempting to silence her simple rationale. What I was able to surmise is that in every party there is always a need to perform, to show one's position on a topic, and that no matter how refined we may be as individuals, that need to demonstrate cultural superiority becomes unleashed at the face of a modest stance. Olga, in that respect, becomes a form of Saint Sebastian, or for the less religious, the Tess in Shirley Jackson's The Lottery. The verbal stoning she essentially buries her until she is barely in the background, merely accepting her fate and position amongst these pseudointellectuals. Still, Malmkrog will only be for strict admirers of Puiu's work, or those familiar with the original source material… not anyone else. [C]
Fauna
Nicolas Pereda is a newcomer to me, and like most newcomers, to the art-house scene, his work announces a director who is willing to play with the very concept of narrative and what is real as opposed to what is performed. It's an extremely short piece (although not by much; Hong Sang-too often makes 60-minute movies) but even in its brief running time, it manages to deliver some interesting scenes. Spit into two, Fauna concerns Luisa and Paco (Luisa Prado and Francisco Barreiro) en route to see her parents.
Not much happens along the way. Once there, Luisa has a conversation with her mother about a part she is rehearsing, leading to both women acting out the part in different, yet poignant ways. Paco gets invited by Luisa's deadbeat brother Gabinio (Gabino Rodriguez) to Luisa's father's bar. Once there they ask Paco to reenact a scene from Narcos, a series where Paco plays out a small part. As it happens with people coming into contact with celebrities, they then ask him to pull out a part from thin air and act around it. It's that scene that ends the sequence with a slight but plausible punchline.
The second part sees Gabino coming into the forefront the following day. He's been reading a book, and his narration of that book builds the fantasy section of Fauna in which he, Luisa, and Paco play out the roles assigned to them in the book. Fauna, if it ever gets released in the US, might find its way into a small niche of arthouse movie lovers who upon giving Pereda's movie a view will want to dissect it down to details. I personally see Fauna as an exercise in performance and role-play that somehow gets connected by a barely-there plot and a slight hint of sadness. [B]
Time
It's not an ovrerreaching statement that prison has become a modern conceptualization of slavery and does not and will not ever benefit African Americans, Garrett Bradley's documentary focuses on Sibyl Fox Richardson, a Louisiana native who, back when she started a hih-hop clothing line with her husband Rob, made the unfortunate mistake of staging a robbery in order to support her business. The reason is never revealed, but we get the idea that the Richardsons were struggling and just didn't know another way out. Keep in mind that this is not a country made for the struggling poor, especially those of color or a "non-White ethnicity."
While she Sibyl took the plea, Rob did not and was sentenced to a 60-year term. During that time we meet Sibyl, who now goes by Fox Rich (as a form of honoring Rob) we get to meet her as she raises her six children and slowly rebuilds her life back together, always waiting for that day that Rob would be let out. She is allotted two visits a month, which takes a toll on her and her growing sons. Through it all, it is her strength and her faith not in the system but in her own will that keep Fox on her feet, and Bradley's film, beat by beat, starts to reveal that what's needed here is social justice.
Time is available on Amazon Prime and is a must-see. [A-]
Smooth Talk
If there ever was an analogy to a snake coming into the garden (and mind you, I don't read or care for the Bible), Joyce Chopra's Smooth Talk, based on the Joyce Carol Oates short story "Where Are you Going, Where Have You Been?" is it. It tells the story of Connie (Laura Dern), a bored, privileged, and maybe mean girl living out her days in Small Town, California. Her interests are as simple as they are pedestrian: boys, and looking pretty. Her home life is a bit more problematic as she has a rather contentious relationship with her mother (Mary Kay Place) who constantly berates Connie. In a nutshell, Connie is anxious to grow up, and her mother would rather she not (and take care of their house).
Connie will get a chance at getting her first glimpse at the real world when a stranger, Arnold Friend (Treat Williams) crosses her path. His entrance in the film comes rather late although he can be seen at the fringes of the story early on, simply observing her. When he finally arrives, he oozes a menacing sexuality that is so pregnant with the personality of a psychopath that Smooth Talk morphs into something more Gothic — closer to David Lynch's sensibilities as a matter of fact. Arnold's dance of anti-seduction with Connie is as tense as anything I've ever seen and continues for a full half an hour before it fades into the distance with Connie in tow. I can see why both writer and director chose to leave it this way; when you see Williams and Dern, both about thirty feet apart with him at the door in a suggestive pose, you realize what will have to occur so Connie can wake up. It is a devastating reality only hinted at but never shown; however, that scene alone is enough. This is a deceptive little movie that will linger on with its bad aftertaste for days, but it is worth a view for its presentation and both Dern and Williams.
Smooth Talk will come back to virtual cinemas in November, 2020. [B+]
El tango del viudo y su espejo deformante (The Tango of the Widower and its Distorting Mirror)
Valeria Sarmiento's restoration of her husband Raul Ruiz's experimental movie The Tango of the Widower and its Distorting Mirror is one of the strangest films I have seen this festival. The backstory of this movie goes back to when it was completed as a short in 1967 but left without a soundtrack. An exhausting procedure of voice restoration that led to the transcription of the actors' lines then led to the hiring of voice-over actors to play the parts out. Even then, Sarmiento was left with too short a movie. However, due to having been aware that Ruiz had often wanted to make a film in reverse in order to play with the fabric of time, she made the decision to, at the film's exact center, unspool it shot by shot, adding snippets of voice over to the existing sound, and the result is this: a movie about a haunting that doubles in on itself and reflects its haunting back to the haunted person. Much like Lewis Carroll's Through the Looking Glass, we first encounter Clemente Iriarte, the widower in question, tormented by his spectral dead wife who seems to believe she is still alive and very much in his personal space. Her haunting reaches a fever pitch until Clemente commits an act of violence against himself… from which a second Clemente emerges, one who knows the ending, but has now come with the omniscient power of self-erase it. One could easily state that the wife who emerges from the mirror could be embodied by the ghost-Clemente, but the film doesn't give you any concise answers. The Tango of the Widower, thus, remains an interesting, intriguing incursion into surrealism in which whatever was on the other side of the looking glass was always observing the observer, and that ghost could be death itself. [B-]
MLK/FBI
Prepare to be outraged. Sam Pollard's blistering documentary MLK/FBI paints a vivid snapshot of where we were as a nation when Martin Luther King was then considered the nation's prime enemy, one that the FBI, headed by then J. Edgar Hoover needed to be destroyed by any means necessary.
From the Freedom of Information Act we can now get a clearer glimpse at the tactics the FBI as an agency held up to a higher standard got involved in. [Of course, they as a whole practically had a file on anyone and everyone deemed an enemy or a Communist, and Dr. King is not the only victim here but he is one of the most salient.] From Dr. King's association with Stanley Levinson, a known Communist, Hoover's focus on King progresses into truly frightening and frankly, disturbing territories.
Perhaps because Hoover, born and raised in the South, had never experienced a Black man who was this verbose and eloquent, and it certainly didn't matter that King was awarded the Nobel Peace Prize in 1963. It speaks glaringly at the attitude of the times in which Blacks had still no rights other than to barely exist, so King as an icon of peace now became an icon of anarchy for the White majority who feared a revolution. This attitude was just the type of environment that Hoover and Wiliam Sullivan needed to exploit in order to disclose anything that could besmirch (assassinate) Dr. King's character and reputation, and the lows that they stooped to will make anyone's book boil.
Pollard's documentary wisely treads some familiar terrain in keeping an objective point of view. It would be problematic to present Dr. King as a saint. Instead Pollard also dives into the ugly rape allegations that Dr. King participated in, but of course also adds that the agents conducting surveillance and listening in to Dr. King living his pwn life came with massive biases against blacks (a bias that still exists even today if you just turn on the news).
Suggestions are made by retired agent Charles Knox, who turns in late in the documentary, that nothing good would come of having access to these files, set to be released in seven years. I disagree: we are owed an explanation of what exactly a prestigious agency was up to. For a nation to heal it must look at its wound. To deny the infliction of such a wound — which incidentally, continued to be inflicted upon Coretta Scott King even after King's murder in 1967, is to give in to the perpetuation of a culture that continues to glorify a police state that does nothing to protect its own and needlessly diminish those not deemed "white enough" (and by that I also include all other non-Anglo races, LGBTQ people, etc.). [A]
Damnation
Bela Tarr's Damnation should have been a noir film. The movie's esthetics, so drenched in noir sensibilities, practically demands it. Picture this: a man lives in the middle of nowhere. His view is of buckets of coal being pulled alongside a cable, the sound they make is purely industrial. This man, hopelessly in love with a woman that does not love him although she says she does. This man is so enamored by this woman that, when offered a smuggling job in which there is money, he would rather give that opportunity to the woman's husband in order to get him out of the way. The woman, only because there is a promise of money (and a way out of this overwhelming desolation), offers to give the man a little bit of sex. The sex, mind you, is passionless. When the husband returns with cash in hand, things go back to where they were, and the man, now alone, realizes he's been used in the worst imaginable way. Something has to give.
If Damnation were to get the Hollywood treatment it could possibly be something straight out of Jacques Tourneur or James Cain, with gritty femme fatales betraying the poor schmoes drawn to them. Damnation, however, goes well past the narrative limitations of noir and sends Tarr's antihero Karrer (Miklós Székely) straight into the bowels of insanity. It is a powerful glimpse into a life wasted by alcohol and despair and the lack of love, magnified by the constant presence of rain and gloom that grabs onto the narrative and never lets anyone breathe. [A]