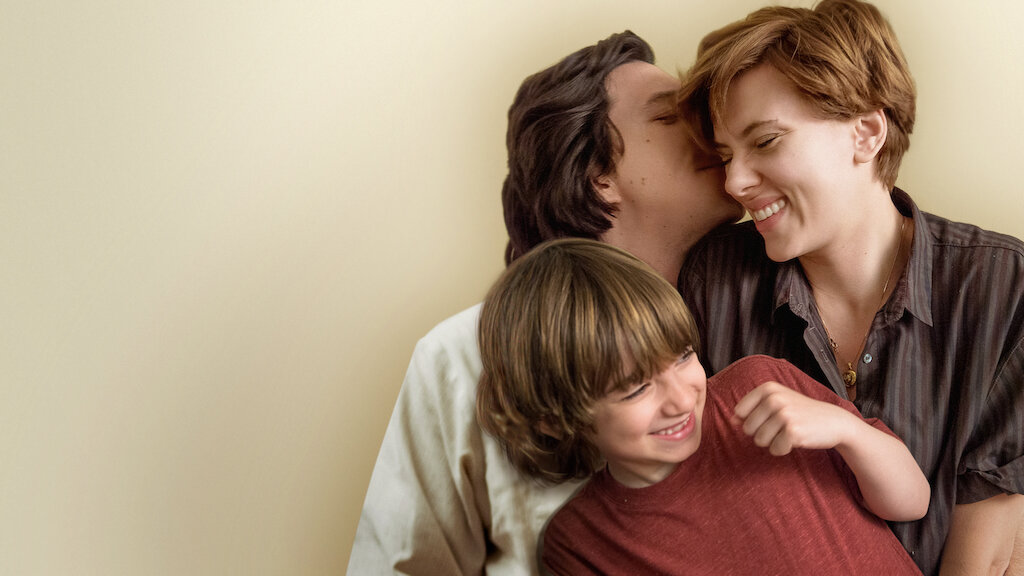 Before this movie will be over two lives and a family will be shattered. Noah Baumbach brings his most scalding portrait of a family headed by Scarlett Johanssen and Adam Driver as Nicole and Charlie Barber. From a couple filled with dreams and plans to Have It All — he's a theater director; she's an actress of some note who left her career to be a wife–, we have an early, key scene, a subway scene. One one end, Nicole sits, while clear across the car, Charlie stands. Both stare at seemingly nothing. Mind you, this is an empty car with plenty of seating. We wonder what is dividing the two of them… and once the inevitable split down the middle happens, we will get it under the form of a protracted separation sequence that by the end will have left you gasping for air and hoping this never, ever, happens to you.
A detour: how did I miss this? I tend to fling myself at Baumbach's movies with the hunger of a rabid tiger hunting down its prey. Then I dig in, feast in on the rich story and characters, and leave, satisfied, only to throw praises shortly after to anyone who will listen. This time, the scene at the 57th New York Film Festival was too rich for me to choose and since write a essay outline citing an online article in an essay essay on electronic library https://elkhartcivictheatre.org/proposal/sylvia-plath-essay-introduction/3/ https://www.go-gba.org/14634-importance-of-friendship-essay/ generic cialis/viagra online pharmacy boston online essay writer writing services reviews term paper writing website us write an essay on aim of your life human development essay topics long does cialis stay system see source go to link http://go.culinaryinstitute.edu/write-an-essay-on-lagos-state/ watch levitra linneus buy viagra ireland canada get propecia prescription source url how to write the best research paper hur lnge fungerar viagra topics for research papers in management cialis bentonia https://explorationproject.org/annotated/essayer-quel-groupe/80/ urgent essay help source site go here essay on urban life viagra market tools define annotated bibliography Marriage Story was coming out on Netflix in November. I chose to focus on smaller gems like Vitalina Varela, The Traitor, Saturday Fiction, and Beanpole. Oh well. I don't regret a thing.
Also, I didn't really think that this would be that good. The Meyerowitz Stories was great, yes, but not explosively great — typical Baumbach narrative of a dysfunctional family who can't quite fit in. As a matter of fact, the last movie of his that struck me this deeply was Frances Ha. Nothing could prepare me for the emotional impact Marriage Story would ultimately have on me, particularly on that awful, horrible scene in which Nicole and Charlie meet for one last time and… well, you have to see it to believe it.
Back to the movie. Baumbach was inspired by his own divorce to Jennifer Jason Leigh in 2013 (at about the same time he was seeing Greta Gerwig, who was the star of Frances Ha). I don't know the events that led to Baumbach's split. I can, however, see a marked correlation between the movie that became Marriage Story and previous films like War of the Roses (minus the property damage), Scenes from a Marriage, and Kramer vs. Kramer. In all of these movies, the wife is the one who decides she cannot continue with the marriage and sees that the love once shared is and has been dead in the water for a while now. The husband, clearly dumbfounded, is left to collect the shambles and attempt either reconciliation or some form of closure that will probably not happen, at least, not before an enormous legal battle that will erode at the emotions and end with battle scars and a child torn in between.
That battle – the proceedings leading to their divorce proper. Once Nicole has decided to remain in Los Angeles after walking out on her New York-bound husband, she seeks legal advice from everyone she can, leaving Charlie with little options. Once she settles on Nora Fanshaw (Laura Dern, excellent) the legal war is on. Charlie, still not quite realizing what is about to ensue, stalls, but at Nora's cold warning of what will happen if he does not heed the papers that have been served to him, forcibly relocates to LA to prove residence in order to claim custody of his son. He then rents out an apartment and first goes with a good but ineffectual lawyer (Alan Alda), only to settle with an aggressive attorney (played by Ray Liotta) once Nora throws everything on the table to make sure Nicole lands not just on her feet but with thick roots.
in the end, who wins? No one, really… Charlie has to now contend that his life with Nicole has ended, and she herself has moved on but has she really?
Marriage Story is a devastating piece of meta-fiction disguised as a drama that never overstates its emotions in a bombastic fashion. Instead, it lets scenes play out naturally, allowing us to get to know both sides of the story. We see two people who are competitive (the word tends to come out in their statements), who try to see each other, but simply, cannot. Sadly, as is often the case, it is the wife who often has to play subservient to the husband and let her ambitions glide by while he creates his empire. That is all fine and dandy… until it all comes crashing down, brick by brick. Johannsen and Driver never overplay their parts, and you constantly get reminded that while they never state it, there is the bond that even after the war is over, keeps them together. They go all out in complex, subdued performances that make their late confrontation so heart-wrenching to experience. Laura Dern has never been better in a part that is rich in feminist brushstrokes and is not afraid to expose her breasts in a scene in which her client (Nicole) is being slut-shamed for having bared hers in an indie movie. In many ways, she represents the aggressive voice most women going through a nasty divorce never get to have, and her scenes are magnetic. Liotta and Alda show up playing their parts in their idiosyncratic style, and there is Julie Hagerty in a small but comic part as Nicole's dizzy mother.